This article is part of our Collette Calls series.
Two weeks ago I went through my NL Bold Predictions and had fun at my expense using memes to grade the predictions. It was well received, so the format will continue for the AL recaps. Buckle up!
American League East (click to review the research on predictions)
Baltimore Orioles: Renato Nunez will hit 25 home runs and Hunter Harvey will lead the team in saves.
Nunez closed the first half with 20 home runs, as the mixture of a tremendous home park for the pull-heavy righty as well as the 2019 baseball have done wonders for him. He has hit slightly above league average and is blowing away most of the preseason predictions everyone had for him. He will continue to play everyday, and given the home run rate league-wide has risen each month this season, 35 home runs is not out of the question. This prediction is looking as good as the Harvey prediction is awful. Harvey has pitched 62 innings between Double-A and Triple-A with a 4.94 ERA, a 1.42 WHIP and 14 home runs allowed around 63 strikeouts and zero saves on the season.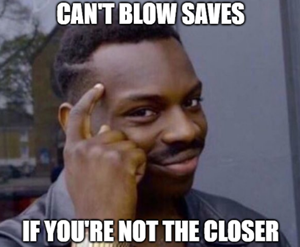 Boston Red Sox: Jackie Bradley Jr. is a top-40 fantasy outfielder and Nathan Eovaldi does not pitch 120 innings in 2019.
Bradley is playing better lately, but the abysmal start is making his overall numbers still look bad.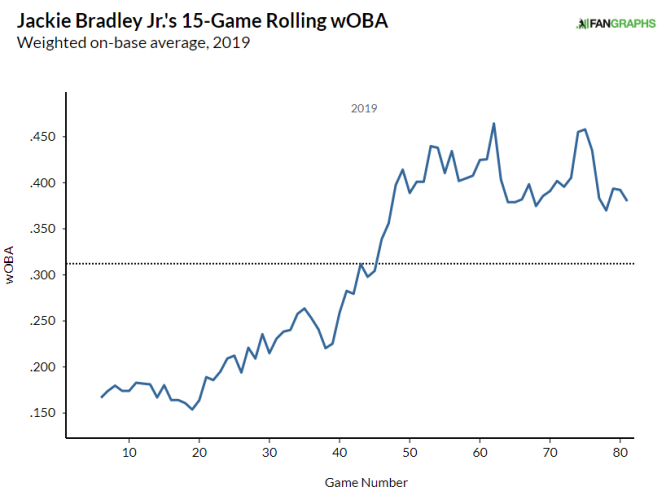 This is the same path that Bradley traveled last season where he was terrible until mid-June and then really never cooled off. He