This article is part of our Farm Futures series.
Given the amount of standings points needed to win a competitive dynasty league, you will likely need a quality fantasy catcher in order to win your league. However, if you are not a legitimate contender in 2020, you can safely ignore the position. Once you're ready to win, you can go get a Yadier Molina type for a prospect outside the top 100. I recommend treating good fantasy catchers like closers or old starters like Charlie Morton. They are very valuable to the best teams in each dynasty league, but they should not be on rebuilding rosters.
Proximity really matters with catching prospects because the road to the majors is often long and arduous, given the defensive rigors of the position. If a catcher shows flaws at Low-A or High-A, I am very willing to cut bait, because I know they are still several years away from the majors and now there is an added element of performance risk. Coming off his 2019 season, Francisco Alvarez would be an easy top-50 prospect if he played any other position. However, since he's a catcher, the risk is amplified.
Offensive upside really matters with catching prospects, but defense matters just as much. Omar Narvaez was the ONLY catcher to get 350 PA last year despite being a significant negative behind the plate, according to FanGraphs WAR.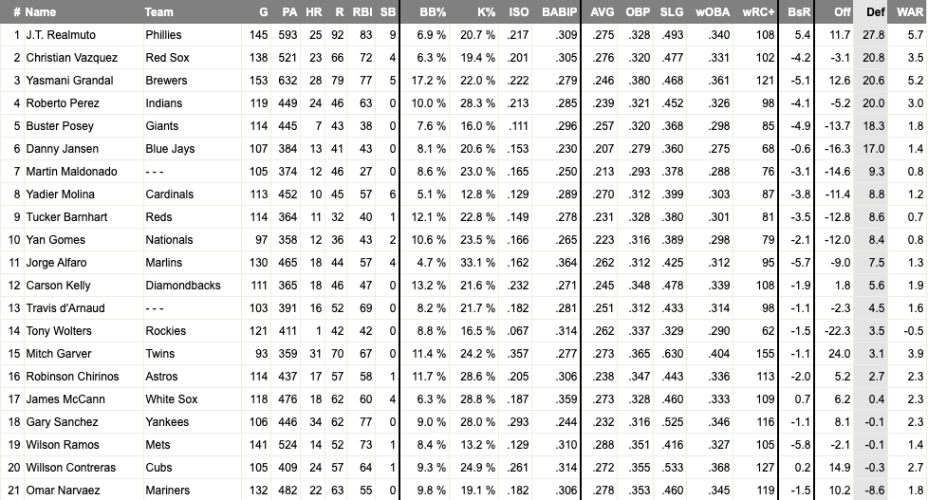 As you can see, there's a pretty strict cutoff for most big-league teams in terms of the level of defensive futility they are willing to