This article is part of our Collette Calls series.
To review the premise of this 2020 series, please review the opening of the first installment of this year's series. To review the 2019 NL East Bold Predictions, click here.
Atlanta
Marcell Ozuna is a top 15 outfielder. He is the 28th outfielder off the board over the past month with an ADP of 108 and a range from 73 to 149. Given he only signed in Atlanta a couple of weeks ago, there is a bit of unemployment tax hitting him, but this is still a tremendous bargain.
Ozuna missed 30-plus games in the middle of the summer with a finger injury, yet still had a productive season; his second-best home run total, 169 runs-plus-RBI and a career-best 12 stolen bases. On the downside, his .243 batting average was his worst effort as a full-time major leaguer. Yet, we look at his expected batting average last season and find that it's 45 points better than his actual average. Ozuna has maintained an expected batting average in the .280-ish range throughout the past four seasons, and the overall expected production provides a lot of hope for what could be in 2020. Nearly every Statcast ranking of his contact in 2019 was a top 10th percentile finish.
Ozuna signed a one-year deal with Atlanta so he could test the free agent waters again next winter, and hitting cleanup for a loaded Atlanta lineup is a primo spot to push up his 2021 free-agent status. The cleanup spot in the Atlanta lineup drove in 99 runs last season, driving in whatever Freddie Freeman managed to leave on base. We saw what Ozuna could do in a talented lineup just three seasons ago in Miami, and he is back in a similar situation here. A full healthy season of a highly-motivated Ozuna could be in for a huge year in 2020.
Mike Soroka is not a top 50 pitcher. Soroka is going 105th overall as the 34th pitcher off the board with a range from 75 to 143. Soroka turned 22 toward the end of the 2019 season, so he will pitch most of 2020 at age 22. We could all agree there has been a lot of attention paid to workloads of pitchers these days, especially for young pitchers like Soroka. From 2010-2019, 13 pitchers worked at least 150 innings in their age 22 season:
Eight of those 13 pitchers missed significant time later in their careers with elbow or shoulder issues. Soroka worked 184 innings between Triple-A and the major leagues last season, on the heels of a 2018 season in which he threw just under 57 innings. That was a significant leap from one season to the next, but Atlanta has always been aggressive with his workloads, giving him 143 innings as a 19-year-old, and 153.2 innings of work as a 20-year-old pitcher.
Here is how Soroka's projections stack up against eight other starting pitchers who are currently being drafted behind him in NFBC drafts:
| | | | | | | |
| --- | --- | --- | --- | --- | --- | --- |
| Pitcher | ADP | IP | W | K | ERA | WHIP |
| Soroka | 105 | 190 | 14 | 157 | 2.84 | 1.15 |
| Wheeler | 121 | 201 | 13 | 202 | 3.54 | 1.20 |
| Bumgarner | 121 | 199 | 12 | 186 | 3.66 | 1.15 |
| Montas | 124 | 171 | 11 | 181 | 3.47 | 1.25 |
| Lynn | 129 | 187 | 13 | 202 | 3.90 | 1.26 |
| Rodriguez | 135 | 175 | 15 | 191 | 3.70 | 1.27 |
| Fried | 141 | 187 | 14 | 188 | 3.75 | 1.29 |
| Hendricks | 161 | 178 | 13 | 152 | 3.54 | 1.15 |
Our projections have Soroka matching a workload that only three other 22-year-olds have bested over the past 10 seasons. His ERA is far and away the best of the bunch, but the projected workload feels like the riskiest of the bunch given the history working against him. He has the second-lowest strikeout total of those projections, even with all those innings, so strikeouts become a concern if his workload falls off. I am just not willing to take the risk on the young arm pushing his workload further up at a young age.
Miami
Corey Dickerson is a top 60 outfielder. Dickerson is currently the 78th outfielder off the board with an ADP of 316 and a range from 229 to 361. Dickerson has put to rest the theory that he was a product of Coors Field as he has continued to hit for average since his departure from the expansive outfield, particularly over the past three seasons. Dickerson did begin making better contact the past two seasons, which has helped his batting average, but there is also something else driving that improvement.
One thing that became rather obvious in Denver was that Dickerson could not stay in the lineup against lefties. The Rockies never let him see over 100 plate appearances against lefties in any one season, and his overall offensive production against lefties was below league average in each one of those seasons. Tampa Bay actually gave him 113 plate appearances the first year and then 165 the second year once he demonstrated he could hit lefties. He has maintained the ability to do that the past two seasons to the point where he is at least league average and does not need a strict platoon partner.
Dickerson is slated to hit cleanup for the Marlins in between Brian Anderson and Jesus Aguilar. Dickerson should have some traffic on the bases in front of him with Jonathan Villar, Miguel Rojas and Brian Anderson hitting in front of him. Dickerson's career-high in RBI is 76, and that would be an absolute floor for him in 2020 if he is hitting third or fourth in this lineup for the season. He has to stay healthy, which has been an issue in each of the past two seasons, but this could be a great case of a discounted veteran making the most of his playing time for a rebuilding club while piling up stats.
Ryne Stanek will finish the season with no more than three saves. Stanek is the 153rd pitcher off the board with an ADP of 450 and a range from 245 to 605. He is big, he has long hair, he throws hard, has a good splitter and a good slider, but not the makeup of a closer. After all, he is the guy that made "The Opener" famous.
Stanek was truly effective as an opener, but his move to that role came about because he was so bad in high-leverage situations when given the chance. Stanek has faced 68 batters in high-leverage situations in his career, and 41 percent of those batters have reached base against him and he has a -3 percent K-BB%. That is not a typo; he has a negative number for his strikeout minus walk percentage. In all other leverage situations, batters reach base at a 29 percent clip and he has a 20 percent K-BB%.
The Marlins have nothing to lose, so Stanek could get into a save situation here or there, but he has not shown the ability to handle the spotlight of the closer role. Do not be fooled by the big fastball and the strikeouts thinking this is a sleeper closer; as he has multiple personality disorder on the pitching mound. This is one of those cases where my personal thoughts differ wildly from the RotoWire projections, which will happen from time to time throughout this series.
New York
Amed Rosario is a top 100 player. Rosario's current ADP is 134 with a range from 97 to 203, showing quite a bit of volatility for someone in the top 16 at his position. I believe there is more to come from this young speedster in 2020.
One thing you want to see from players is year-over-year growth. All growth is not linear, but much of Rosario's growth is trending in the right direction over his 2.5-year career at the big-league level. His home-run total, extra-base-hit total, batting average, on-base percentage, contact rate and most of his expected stats each have shown year-over-year improvement. In fact, both his sprint speed and expected batting average are in the top 10th percentile of the league.
Breakouts happen with experience, and Rosario has amassed over 1,400 plate appearances at the big-league level before his 24th birthday. He needs to do a better job not getting caught stealing on base if he wants to have a big season, and that is how this prediction can come true. If everything broke right, there is 20-20 potential in Rosario for 2020. Shortstop is a deep position, but he is going in the late teens at the position with the potential to finish in the top 12.
Edwin Diaz is a top three closer in 2020. Diaz's ADP in January is 124 with a range from 100 to 175. Here is how he ranks against other closers in the January drafts at NFBC:
| | | | |
| --- | --- | --- | --- |
| Pitcher | ADP | High | Low |
| Hader | 67 | 45 | 84 |
| Yates | 81 | 65 | 103 |
| Chapman | 88 | 75 | 108 |
| Osuna | 91 | 74 | 105 |
| Hendriks | 109 | 77 | 149 |
| Hand | 120 | 97 | 138 |
| Rogers | 123 | 103 | 153 |
| Diaz | 124 | 100 | 175 |
| Jansen | 129 | 105 | 147 |
| Giles | 132 | 113 | 159 |
This time last year, Diaz was sometimes going as the first closer off the board as he came off a huge season, which is something to bear in mind as you decide when to pull the trigger on the likes of Kirby Yates and Liam Hendriks this year.
Diaz's first season in New York was a statistical disaster, blowing seven of 33 saves with a 5.59 ERA and 1.38 WHIP while surrendering 15 home runs in 58 innings of work. He also managed to strike out 99 batters in that time with an elite 30 percent K-BB% as well. There rarely has been a season filled with that much dominance and disaster from any one pitcher.
There has been 53 times in baseball history in which a reliever (min 50 IP) has ended the season with a K-BB% of at least 30 percent. Diaz's 5.59 ERA last year was nearly two runs higher than the next guy on that list, Rafael Betancourt. His opponents' batting average was 30 points higher than the next-worst average, while his slugging percentage was 99 points worse than the next-worst one. It gets worse. Look at his 2019 Statcast rankings for last year:
| | |
| --- | --- |
| Measure | Percentile |
| FB Velo | 98th |
| K% | 99th |
| HardHit% | 2nd |
| xBA | 88th |
| xwOBA | 85th |
| xSLG | 78th |
He displayed elite measures nearly across the board, but was lit up like a Christmas tree when he did make mistakes. It is impossible to understate the amount of misfortune this guy had last season. It gets back to Rick Wolf and Glenn Colton's theory I mentioned concerning Anthony Rendon; big contracts in new places are a risky play. Diaz was not a free-agent signing, but he was traded with big expectations from an afterthought media market to one that scrutinized his every pitch.
The home-run issues last year was absurd, and we can look long and hard at issues with his slider. In 2018, batters had a .192 wOBA off his slider, and a .388 wOBA on contact. Last season, batters had a .392 wOBA off his slider and .610 when they made contact with it. Yikes! His expected wOBA off the slider last year was .268 and his expected wOBA on contact was .409. That pitch had never been more hittable in his career than it was last season. The slider issues made his fastball more hittable, but it was still usable. The slider has to come back around for Diaz to regain his form.
If the slider shows up again as it did in 2018, his current ADP will be laughable when we look back at where the bargains came from in draft recaps.
Philadelphia
Andrew McCutchen is a top 150 player. His current ADP is 208 with a range from 164 to 264. Why? The ACL tear last year was the second stint on the injured list for his entire career as he has been a nearly-everyday player forever. The injury will likely inhibit his chances of stealing 10 or more bases again, but he could challenge his career high in runs scored, which was 107 back in 2012.
McCutchen has a career OBP of .378 and is the perfect fit to hit leadoff in the talented Philadelphia lineup. He scored 45 runs in 60 games last season before going down with the knee injury. .260, 20 homers, 180-190 runs-plus-RBI and 5-10 steals is worth more than the 208th pick in the draft. His tablesetting abilities are not being fully appreciated by drafters in January.
Zach Eflin finishes out of the top 500. Eflin's current ADP is 415 with a range from 352 to 492 in the month of January. He is coming off an odd season in which he went against the grain, and his coaches, and ended up the better for it.
He began the year well, going 6-6 with a 2.81 ERA and 1.15 WHIP over his first 13 starts with a decent 14 percent K-BB%. It is reported that former pitching coach Chris Young wanted him to start throwing more four-seamers, but the data does not back that up. In fact, Eflin started throwing fewer four-seam fastballs as the season went on:
| | | | | | |
| --- | --- | --- | --- | --- | --- |
| Split | 4-Seam | 2-Seam | Slider | Change | Curve |
| 1st 13 | 42% | 14% | 35% | 6% | 2% |
| Next 6 | 38% | 16% | 32% | 6% | 8% |
| ROS | 19% | 38% | 24% | 11% | 1% |
Now, let's add his results over that same time:
| | | | | |
| --- | --- | --- | --- | --- |
| Split | ERA | WHIP | K-BB% | OppBA |
| 1st 13 | 2.81 | 1.15 | 14% | 0.238 |
| Next 6 | 8.10 | 1.77 | 12% | 0.331 |
| ROS | 3.88 | 1.41 | 7% | 0.260 |
Eflin was lucky early on as his FIP was nearly two runs higher than his ERA. That caught up to him in the middle of the season, but then his ERA improved the rest of way even though his overall skills did not. It's crazy how his ERA was only 3.88 down the stretch given he allowed 10 homers in 53 innings around 21 walks and a hit per inning. The 5.46 FIP down the stretch tells the real story.
Eflin may want to scoff at the analytically-minded Young and Kapler and go with his sinker, but his overall indicators were trending in the wrong direction and he could quickly find himself in the bullpen in 2020 if he continues down this path of overusing his hittable sinker and hoping that he has as much batted-ball fortune as he enjoyed down the stretch last season.
Washington
Asdrubal Cabrera finishes inside the top 300. He is currently going 379 with a range from 291 to 487 in January drafts. Cabrera has been a rather consistent producer who has aged gracefully the past few years while moving around the league. He made a shrewd move deciding to re-sign with the defending World Series champions this winter, because his counting stats could get a nice bounce.
Last season, Cabrera drove in 51 runs in 93 games with the Texas Rangers, and 40 runs in just 38 games in Washington as his bat took on new life in a pennant run. Cabrera is currently slated to hit sixth in the Washington lineup, but my prediction is based on the chance he moves up to the two spot in the lineup if Davey Martinez is really going to hit Trea Turner third as I do not believe the Eric Thames Experience will be a good one up there. If it is, lord help our Turner shares as Thames clogs the basepaths and doesn't allow Turner to steal an open base at will.
Cabrera moving up to the second spot in the lineup makes sense as he has posted an OBP over .330 in three of the past four seasons, and has better bat-to-ball skills than Thames, allowing Martinez to set Adam Eaton in motion for more hit-and-run opportunities to get him over into scoring position early in games. Cabrera, should he hit high in the lineup this year, could challenge 100 RBI with Eaton hitting in front of him, and 90 runs with Turner and Soto hitting behind him. If he stays down in the lineup, you have consistency to bank on, but if he moves up, every projection for him right now will be the floor.
Patrick Corbin is not a top 25 pitcher. He is currently the 13th pitcher off the board with an ADP of 46 and a range from 31 to 60. For this prediction, I need to remind you of the premise for my decision to fade Shane Bieber this year.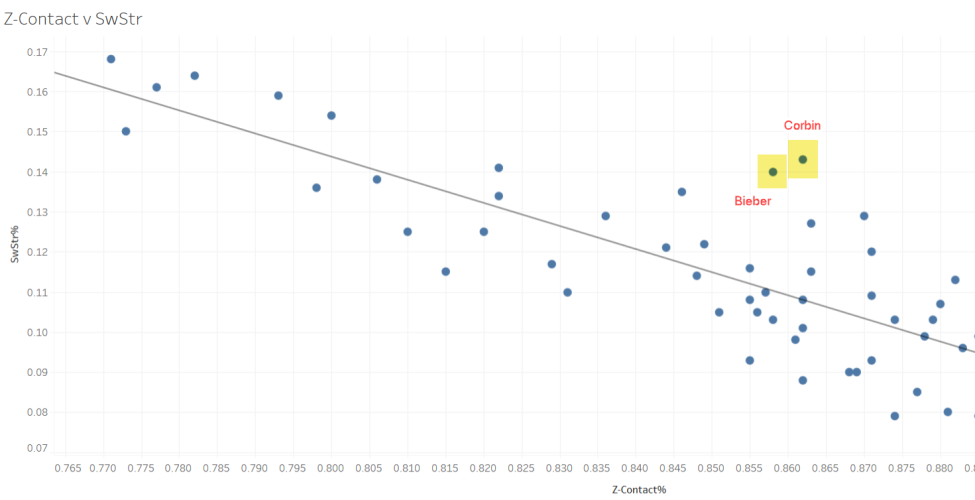 Corbin's contact rate on pitches in the strike zone last season was well above the norm. When Corbin had the advantage in the count last season, opponents hit .144 against him and he had a 19 percent swinging-strike rate. When hitters were even or had the advantage, they hit .311 against him and his swinging-strike rate fell to 12 percent.
2019 was the first time Corbin was able to avoid the times-through-the-order penalty in his career, and the new curveball gets the credit as it gave batters something else to think about. That said, now they know about it and we need to decide if his 55.2 innings of great pitching the third time through an order is real and if he has truly left the 150-plus innings of ugliness behind him. We also have to ask if his .190 average against lefties in 2019 is the real deal, or is his .235 average against them over the previous three seasons a better measure of his abilities?
2018 and 2019 look like similar seasons on paper, but he did some things in 2019 for the first time in his career. His 2018 FIP predicted he would do well in 2019, but that same measure is warning us to consider him taking a step back in 2020. A fall out of the top 25 would be 30 spots in ADP as Trevor Bauer is sitting there at 76. I would rather have Corbin over Bauer, but I believe both end up outside the top 25 at season's end.