This article is part of our Collette Calls series.
I set a goal for myself in 2020 to not use the internet while flying, and instead use that time to read and consume podcasts. I've held up my end of that bargain so far on flights to Syracuse, Boston, and Austin. I vacillate between business books and fantasy podcasts and material this time of year, while also listening to a lot of SiriusXM in the car. One prevalent theme I've heard and read is how liberally the 200 IP label is being thrown around on starting pitchers.
We view 200 IP pitchers as workhorses, and rightly so. That means they're answering the bell at least 30 times a season and working an average of about seven innings an outing. That view also does not reflect present day reality in this world where most managers pay credence to the times-through-the-order penalty and are quick to begin leveraging the "A-bullpen" when the game is going well.
This change in baseball has been mostly gradual if not more recently sudden. At the beginning of the last decade, 45 pitchers worked at least 200 innings in a single season. However, by the end of the decade, just a third of that number did so: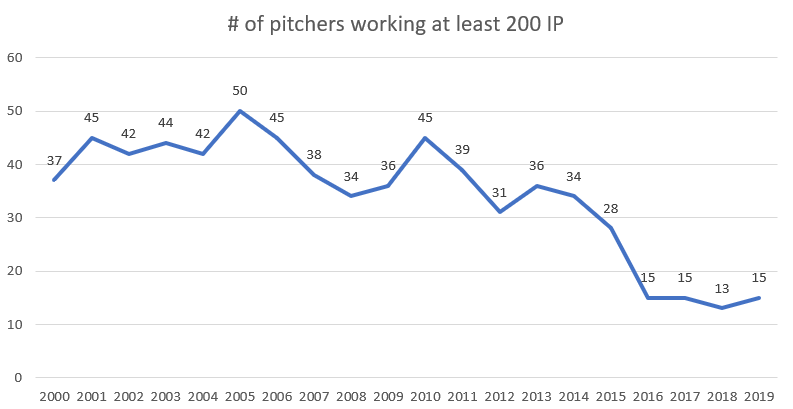 The final total each season has reached a new norm in past seasons, and it is roughly half of where things were just five seasons ago. This is why our RotoWire rankings only have 10 pitchers reaching 200 innings in 2020. Yes, there are 23 pitchers projected to work