This article is part of our Collette Calls series.
Greetings from the main meeting room at First Pitch Florida, as I listen to Derek Carty, Ray Murphy and Todd Zola have a discussion about some of the tougher guys to project this year. I made the jump back into the single-league format of LABR this year once BaseballHQ and USA Today teamed up to bring the draft location to the east coast.
Truth be told, they could have announced it was being held in Duluth and I still would have attended because these events are so much fun and I have missed LABR weekend. I've thoroughly enjoyed the online mixed drafts with Paul Sporer and the live podcasts we have done doing those, but when Steve Gardner reached out to ask if I was interested in replacing Jeff Zimmerman's spot in AL so he could slide over to the live mixed auction, I jumped at it. It brought me back to the Tampa Bay area and got me to my first spring training game since I left the state back in 2014. There honestly is not much I miss about living in the Sunshine State, but going to camps in February and attending games in March ranks right up there behind walking to UCF games from my house near campus.
I did talk with Jeff shortly after the change was made, and one of the things he told me was that had he stayed in the AL auction, he was thinking of building a powerful team that punted batting average at the table. That comment must have resonated somewhere in my brain, because the final roster very much looks like that even though it was not by pre-draft design.
Catchers: Danny Jansen ($7) and Austin Allen ($2)
Both players were targets. Jansen was the guy I wanted at C1 at the right price with Allen or Chance Sisco as my C2. Jansen went $11 in this same auction last year, so I went in hoping for some recency bias, and was happy to get the player for $3 under what I valued him at. StatCast hints at a sophomore bounce back. Allen was someone I put in my bold predictions, so I will let you re-visit that read rather than rehash things here. Simply put, I believe I have two C1's here by season's end.
Corners: C.J. Cron ($15), Renato Nunez ($11), Hanser Alberto ($9)
Thus begins a theme on my team. I'll start in reverse with Alberto. I think it is imperative to roster two-to-three guys in a single-league format to give you lineup flexibility. That is even more important in AL LABR where you can only reserve a player if he is injured or demoted to the minors. Alberto was a target for this purpose, and the fact he is likely going to hit leadoff for Baltimore this year. Yes, his insane 2019 vs LHP is unsustainable, but I need his average and flexibility on this roster. I had him valued at $11 pre-auction.
Nunez lacks flexibility, but he does not lack power and Baltimore is going to let him roar in the middle of the lineup everyday. This was a pure power grab, as I had him valued as a $15 player pre-auction so I jumped into the bidding at $10 to push it along knowing I was getting a value (in my eyes) if the bidding stopped. That brings us to Cron.
As I started my LABR prep in January, I sat down on Statcast and started looking for players whose expected stats fell short of their actual stats. It is how I start the basis of my research every year; I don't use those numbers as gospel, but use them as starting points for what could happen and why the previous year went the way it did. Cron really stood out on the leaderboard:

There he is with a 25-point gap in his batting average, and 81-point gap in his slugging percentage, and the third-highest gap in his expected wOBA last year. Now, he moves to Detroit where he should get the most playing time of his career, and his swing should be able to avoid triples alley in Comerica which would continue the expected stats gap if he lived in those alleys. Remember, he was dealing with a thumb injury for a good chunk of last year and yet still had a productive year. Alex Fast tweeted this out yesterday as well:
I had Cron valued at precisely $15, but as is the case in expert leagues, he was a wide-awake sleeper for the rest of the room as a few owners participated in the bid. I would have gone up to $17 for the player because I now believe Cron has a career-year in him for 2020 which will exceed what he did for Tampa Bay in 2018. I base my evaluations on what I believe is achievable ($15), but believe Cron has $20 upside in single-league formats this year.
Middle: Shed Long ($10), Myles Straw ($4), Nicky Lopez ($4)
Long and Straw were both roster targets as I wrote them both up in my bold predictions. Long is likely going to lead off for the Mariners and gain some position flexibility between 2B and the OF, so I am happy about both of those things. I believe Long is being undervalued this spring in drafts and is going to have a nice breakout season out west and return profit. Straw became an essential target once I failed to acquire enough speed earlier in the auction. He does not have a starting job in Houston, but they're talking about him playing some IF and OF, and the pinch-run steals are always an option late in games. Right now, I need him to be more Jarrod Dyson than Terrance Gore, but the speed is there. Lopez was an endgame pickup for his positional flexibility and his minor-league track record of hitting for average. I'm well-aware of his weak contact at the major-league level, but he should be a regular in the Kansas City lineup, hitting ninth. I just need him to hit for average and run a little bit.
Outfield: George Springer ($27), Willie Calhoun ($15), Joey Gallo ($23), Franmil Reyes ($17), Niko Goodrum ($15).
If you would have asked me pre-auction about my outfield, Goodrum and Reyes would have been the only names off the list above I would have guessed would make my roster. I love Goodrum's three-position eligibility on draft day, and the fact he should get enough playing time in Detroit to compile stats across the board. I like him more than the market as I have him in just about every draft I've done so far this year, but bad teams can afford to let compilers compile. I valued him at $16, but would not have gone $17. I did not expect to get Calhoun, because everyone seems to love his potential in 2020. I had him as a $15 player pre-auction, so that was the price I would be willing to go to when he came up. I was still constructing my roster as he came up, so the surplus of power was not yet evident, so I grabbed him at my price.
I loved Reyes last year, especially when he made my bold prediction for him come true. The Franimal is going to hit fifth in the Cleveland lineup and look to drive in whatever Jose Ramirez leaves on base for him. I had Reyes valued at $21 for the auction, so was very pleased when the room dropped out at $17. Springer at $27 was my earliest buy of the auction, as I had him at $29 on my sheet. He was the first Astros player off the board, but really the only one that came at a discount by my rankings. The room paid for the big Astros name, but $2 saved in the auction is a good thing, so I have him. I loved Gallo in AL Tout last year, but that was an OBP league and he was well on his way to earning the $23 I paid for him there before the hamate injury. Here, I have to live with the batting average, and the unknown of the new stadium and how it will impact his and the team's run production. I had him as a $26 player with an aggressive projection of 44 homers, 102 RBIs, 92 runs and a .230 average.
Utility: Khris Davis ($19)
I call this one out separately because of the strategy involved. In LABR, and Tout, a player's eligibility is determined by the positions where he appeared at most in the previous season. DH counts as a position, so by those rules, our auction had five players who were Utility-Only for nomination:
I told the passengers in my car on Saturday on the way to the Yankees/Tigers game my strategy in the auction was to keep throwing out those names until I either rostered one of them or ran out of names. I began with Solak, because his upside intrigues me. I had him valued as a $10 player, but Todd Zola had him more, and went to $11, and I did not want to go more than that with the fifth nomination in the auction. However, I did create a bit of a headache for him removing the in-auction flexibility for him by clogging utility with Solak. I then removed that from my own roster by nominating and then buying Davis the next time around the table. I had him as a $21 player who will bounce back from a bad 2019 that wasn't the same after he crashed into the side wall in Pittsburgh. Consider using the same strategy in your home league if you can, but be prepared for how you will handle the inflexibility in-auction if you end up with one of them.
Starters: Matthew Boyd ($16), Andrew Heaney ($8), Kenta Maeda ($12), Chris Bassitt ($8), Yusei Kikuchi ($2), Brad Keller ($5), Josh James ($8)
Boyd was in my bold prediction series last year and again this year. Watch this at-bat against D.J. LeMahieu to be reminded what Boyd is capable of doing when everything is right for him:
Two swinging strikes with the fastball and changeup (!!) and froze him on a backdoor breaking ball. I was all-in on buying Boyd in the auction after watching him eviscerate LeMahieu in-person. Heaney was someone I threw out at $8 and the room went quiet. I was afraid I missed the news his left arm had been amputated earlier in the day or something. I mean, the room paid $25 for Sale and $28 for Snell, and both of them had actually had injury concerns heading into the auction. Heaney is not hurt (yet). I will take the strikeouts and hope that he does a better job of keeping the ball in the yard this year. I had him valued at $14.
I was pleased to get Maeda for two dollars less than my value for him. I'm not in the group that believes he is now a 170+ IP guy in the American League, but I do believe he will enjoy tremendous run support and Rocco Baldelli will not leave him out there too deeply into the TTOP, which has been an issue for him in Los Angeles. Bassitt was a pre-auction target for all the reasons I put in my bold prediction series; I still believe he leads that starting staff in roto value earned this year as well as innings pitched. Kikuchi and Keller were both guys in the endgame I took chances on based on recency bias. Kikuchi is throwing harder this spring while Keller is adding a new pitch. Keller desperately needs another look vs LHB so he is not pitching around them as much, while Kikuchi's added velocity will help. The risk here is that I cannot bench these guys, so they have to stay in my rotation, so I need to be willing to cut bait if they look bad early.
I call out James separately as I did not want him. I had him valued as a $9 pitcher, but I had bigger needs at that time in the auction and should have resisted the urge to push his talent up another dollar in the auction. I am comfortable with the price, but he is not the guy I needed at that point in the auction, so it was a bad move on my part. If he makes the rotation, his upside is tremendous, but he may also pitch in a swing role again, so I paid a lot for strikeouts, a handful of vultured wins and ratio headaches. The $8 spent there at bid 122 made it tougher to go the extra dollar on Nick Madrigal and his batting average potential, or Jose Peraza's speed potential - both of which I needed on my roster - later in the auction.
Relievers: Hansel Robles ($14) and Joe Jimenez ($9)
I had them valued $15 and $11 respectively pre-auction. I had no intention of grabbing a Tier 1 closer (Chapman, Hendricks, Osuna, Hand), but did want one of Robles, Ken Giles or Taylor Rogers. Giles and Rogers went earlier in the auction at $15 each (I was the penultimate bid on both guys), but my $14 on Robles won out the third time around. Had that plan fallen apart, I would have likely gone after Leclerc or Kennedy and moved money around. Jimenez should get all the saves in Detroit, as even bad teams need closers. He was excellent down the stretch last season and I am excited to see what he can do with the job over the course of a full season.
Reserves: Tarik Skubal, Andrew Kittredge, Lewis Thorpe, Willi Castro, Yermin Mercedes, Brett Phillips
I debated taking Nate Lowe with my first overall pick, but the Tampa Bay roster is very crowded and it already has a ton of lefty power guys so Lowe's path to playing time is unclear. Ultimately, I went with the hope Detroit allows Skubal to come up quickly, and I can then move him up and down off my reserve roster throughout the year for his strikeouts. Kittredge and Thorpe were both guys from my bold prediction series, and I nearly took Kittredge in the endgame but decided to wait until the reserves to see how his role in Tampa Bay plays out. He took a big step forward in 2019 with his stuff and I believe he will see more high-leverage work in 2020. Castro and Phillips each hit and ran in Triple-A in 2019, but did neither at the major-league level. I picked up both as speed speculations recognizing my slow active roster. Phillips is out of minor-league options and should make the Kanas City roster while Castro may make the Detroit club as the reserve infielder. Mercedes is projected to be the 26th man on the White Sox roster and hit .317/.388/.581 between Double-A and Triple-A last year with 23 homers and 80 RBI as a catcher, DH, and even played a few games at the infield corner. I'll take that dart throw in the reserves all day long, especially when my second catcher is a question mark.
Final Thoughts:
My pre-auction categorical targets: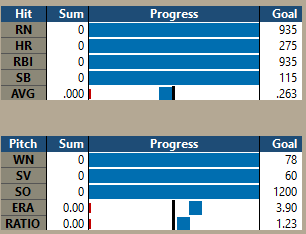 My post-auction results: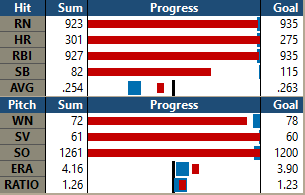 The full-league results can be seen here. I have to chase speed and average in-season for the team to have a chance in September. I'm quite comfortable with the pitching staff's upside, especially given how messy AL pitching could be this season with so many big names unavailable early on. If the team gets off to a hot power start, I will look to move some of that quickly for some more balanced hitting options so I am not hopelessly behind later in the season and putting all of my hopes in a mid-season league switch.