Zalgiris at Baskonia
Date: 2/20
Time: 9:00 pm CET
Game Preview
Baskonia and Zalgiris, two teams needing a win to keep pace in the playoff chase, will square off in the final game on Thursday's schedule.
Leading the way for the Spanish hosts will be Tornike Shengelia, the accomplished veteran who is averaging a career-best 15.8 ppg in his seventh EuroLeague season. That's about the only certainty in regards to Baskonia's rotation Thursday, as the departure of Nik Stauskas and the questionable status of Pierria Henry leave the backcourt situation unsettled heading into Round 25. The best bet to produce seems to be Shavon Shields, who scored in double figures nine times over the last 11 Rounds. New additions Zoran Dragic and Semaj Christon will factor in one way or another, with Christon's expected output in particular likely hinging on Henry's availability – or lack thereof.
The visiting Lithuanian squad owns a 9-15 record, but they are outscoring opponents by nearly a point per game and come in on a 6-3 run. Even without leading scorer Marius Grigonis (ankle) Zalgiris possesses an excellent five-man core, with all of Zach LeDay, Lukas Lekavicius, Jock Landale, Thomas Walkup, and K.C. Rivers averaging at least 9.6 points and shooting 46 percent or better from the field.
The last time these squads matched up in Round 1, Baskonia came away with a 70-58 victory behind 19 points from Shields and 13 from Shengelia. No Zalgiris player scored more than 10 points that day, and it seems likely at least one will have to do so in order to reverse the results in Round 25.
Injuries
Kirolbet Baskonia
Patricio Garino - OUT - Knee
11/24 12:28 AM IST - Garino has been diagnosed with a torn ACL in his right knee. Garino left Friday's game and was sent to the hospital. It's been determined that he tore his ACL and that surgery is needed.
Jayson Granger - OUT - Achilles
10/1 3:36 AM IST - Granger will miss six months with a torn Achilles tendon, according to euroleague.net. Granger was injured in Baskonia's Spanish League opener, and will face a lengthy recover period after undergoing surgery. Assuming his recovery goes as planned, he should be able to rejoin Baskonia at some point during the second half of their season.
Pierria Henry - GTD - Face
2/20 4:01 AM IST - Henry (face) could return to action Thursday against Zalgiris, according to La Vanguardia. Ivanovic was not particularly optimistic about Henry's chances of playing in Round 25, but he did indicate Henry would practice with his teammates Wednesday, so he will at least have a chance to get back on the court after missing the last three Rounds because of a broken cheekbone.
Luca Vildoza - OUT - Shoulder
2/2 12:15 AM IST - Vildoza will undergo surgery on his injured shoulder next week and is expected be out three more months, according to eurohoops.net. Vildoza and Baskonia had been hoping to avoid surgery, but his shoulder did show the necessary improvement, and it was ultimately decided to send him under the knife. Vildoza's recovery timeline effectively rules him out for the season, unless Baskonia really heats up and lands a spot in the Final Four.
Zalgiris
Marius Grigonis - OUT - Ankle
12/3 11:42 PM IST - Grigonis will undergo surgery on his injured ankle and is expected to be out about three months, according to Zalgiris' official website. Grigonis was able to play through the pain for some time, but he was unable to overcome the injury, so it was ultimately decided to send him under the knife. Grigonis is second on his team in scoring in EuroLeague play, so Zalgiris will be without one of its top players for several months. KC Rivers and Thomas Walkup are the favorites to fill the void until Grigonis returns.
Zalgiris Probable Starters
G - Thomas Walkup
G - Arturas Milaknis
F - Edgaras Ulanovas
F - Nigel Hayes
C - Jock Landale
Kirolbet Baskonia Probable Starters
G - Semaj Christon
G - Matt Janning
F - Shavon Shields
F - Tornike Shengelia
C - Micheal Eric
Top Picks
Tornike Shengelia, BAS - Baskonia's pillar, Shengelia is averaging 15.8 points, 5.7 rebounds, 2.7 assists 1.2 threes and 0.9 steals per game. He's failed to crack double figures on just two occasions.
Thomas Walkup, ZAL - Walkup is Zalgiris' most versatile player, averaging 9.8 points, 3.8 rebounds, 5.2 assists, 1.0 steals and 1.0 threes per game. He has reached double digits 12 times on the season and is shooting an even 50.0 percent from both the floor and from beyond the arc.
Zach LeDay, ZAL - LeDay stepped up in place of an ailing Jock Landale in Round 24, putting up 22 points and six rebounds over 26 minutes. He could see a bit less of the court Thursday with Landale back, but he will still likely be asked to do plenty, particularly given the fact he leads all healthy Zalgiris players with an average of 11.0 ppg.
Jock Landale, ZAL - Landale missed Zalgiris' last two EuroLeague games because of an illness, but with two weeks between games he should be back at 100 percent for Round 25. When on the court Landale has been a steady producer, scoring in double figures 12 times over the last 15 games while averaging 12.0 points, 5.4 rebounds, and 1.1 assists per game over that span.
Captaincy Options
Dream 11 Team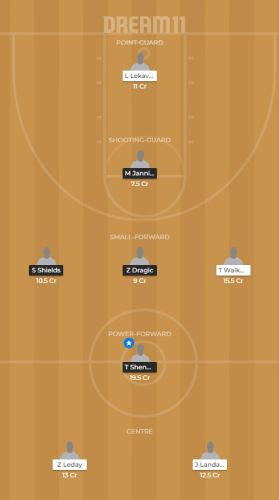 Grand League Combination
Shengelia, Walkup, Shields, Christon
Small League Combination
Shengelia, Walkup, LeDay, Landale
The author(s) of this article may play in daily fantasy contests including – but not limited to – games that they have provided recommendations or advice on in this article. In the course of playing in these games using their personal accounts, it's possible that they will use players in their lineups or other strategies that differ from the recommendations they have provided above. The recommendations in this article do not necessarily reflect the views of RotoWire.