This article is part of our Dynasty Watch series.
How would you feel about Josh Jacobs at $4 on a dynasty team with a $400 salary cap? What about Darrell Henderson for $2, or Kyler Murray for $16 in a superflex format? This might sound like a league where only two people showed up for the rookie auction, but it's business as usual over at Ottoneu, a site that allows fantasy owners to stash college prospects on our dynasty rosters.
I'll be the first to admit I rarely watch college football and had no real idea what I was doing when I agreed to join for the inaugural season of RotoWire's staff Ottoneu league back in 2016. I came out of the start-up auction with Heisman candidates Deshaun Watson and Christian McCaffrey, a duo that led me to a title this past season. Of course, I also spent $40 on Eli Manning and $14 on Jeremy Langford at that initial auction, paying the price for my mistakes with a two-win debut campaign.
Speaking of mistakes, I made an all-time terrible trade during my championship run last year, shipping out a $5 Nick Chubb for an $80 Rob Gronkowski in early October. The Browns dealt Carlos Hyde to Jacksonville the next week, and Gronkowski never provided an upgrade over the tight ends I'd previously been streaming. I was lucky to survive Gronk's goose egg during championship week, with McCaffrey, Watson and Damien Williams picking up the slack.
I came back this offseason sporting one of the better roster+cap situations in the league, but it's hard not to dream about how dominant my team would be if not for the short-sighted Chubb trade. I still have a glut of favorably priced RBs — McCaffrey ($53), Williams ($9), Jacobs ($4), Kerryon Johnson ($20), Rashaad Penny ($6) — along with a a clear weakness at tight end, so my first big move this offseason was to trade Derrick Henry ($37) for Vance McDonald ($6).
Here's a look at my roster after the trade, keeping in mind that I'm currently using $301 of a $400 budget and will need to save some room for in-season maneuvers (there isn't a separate outlay for FAAB). Also consider that rosters run 20 deep, with starting lineups comprised of 1 QB, 2 RBs, 2 WRs, 1 TE, 1 K, 1 FLEX (W/R/T) and 1 superFLEX (Q/R/W/T), utilizing 25/10 yardage, 4/6 touchdowns, PPR scoring: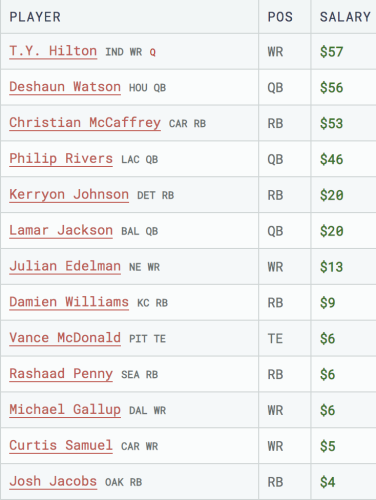 One of my favorite things about Ottoneu is the big-but-not-quite-permanent reward for connecting on a prospect. There's an "arbitration" system for each team to increase the price of opponents' players during the offseason, but we can only use up to $8 against a single team and $4 against a single player. Combined with the automatic $4 bump for any player that appeared in at least one NFL game, the most a salary can rise is $45 in one offseason. That sounds like a huge number, but it's not so bad in relation to the $400 budget.
With a handful of clear bargains on my roster, there was no way for other teams to bid them all up to open-market value. Most of the attention went to McCaffrey, Johnson and Lamar Jackson, leaving Williams, Edelman and Jacobs virtually untouched. Eventually I'll need to pay market price for C-Mac, but it won't happen until 2020 or perhaps even 2021. My early investment continues to pay huge dividends across multiple seasons, but it isn't permanent in a way that allows for never-ending domination on the basis of a couple good decisions.
On a roster that's otherwise cheap, young and underpriced, two players on my team stand out as a bit different — T.Y. Hilton and Philip Rivers. I was planning to keep both past the July 31 offseason deadline, but my preference is to find some kind of trade that either lands me a stud WR1 or else frees up enough cap room to allow for a serious run at unowned Julio Jones during the August auction.
Lucky for me, Joe Bartel (@JBFantasySports) sent out feelers on a Deebo Samuel ($5) trade, perhaps knowing my irrational love for the prospect wouldn't be stymied — at least not fully — by the workload/QB concerns in a deep San Francisco offense. Our discussions predictably progressed toward deals in which Samuel would be a mere afterthought, including one offer of Hilton, Rivers, Jacobs and Johnson in exchange for Samuel, Dalvin Cook, Sam Darnold and JuJu Smith-Schuster.
Joe was kind enough to gently bring me back down to earth, without calling me any mean names even though I probably deserved it for trying to steal his JuJu. Moving on to a depressed state of JuJu-less acceptance, I agreed Wednesday to the following trade:
The trade would be a clear win for Joe if prices were equal, but it felt fair once we accounted for the $30 freed up in my budget. Assuming I use that money to acquire Jones or another WR1, the ultimate outcome is that both Joe and I will have improved our starting lineups while absorbing a bit of added risk in terms of financial flexibility to add depth. As a bonus, I can now be sure there's at least one team that won't challenge me in bidding for top wide receivers, with Joe boasting Smith-Schuster, Hilton and Keenan Allen in his starting lineup while still looking shaky at QB and TE.
The consideration of how trades will impact future competition to acquire players is something I'd never really considered before I joined the General Manager Fantasy Football League (GMFFL), another awesome dynasty format I discussed here on RotoWire last month. Taking over an orphaned team at the beginning of the offseason, I prioritized cap flexibility and youth over 2019 expectations, feeling hamstrung by the suboptimal work of my GMFFL predecessor, who had allowed Zay Jones and Tajae Sharpe to account for 9.3 percent of the salary cap in a league with 22-player rosters.
I've already made three trades in that league, with each having the effect of moving salary from my team to my opponent's while also helping them fill roster needs for 2019. I'm more likely to find good value in the August player auction if there are only a few teams with considerable cap space and glaring needs. That doesn't mean I'll be able to steal a Travis Kelce or Damien Williams for cheap, but it could reduce competition on players in the $2-9 range. For a rebuilding team in a league with multi-year contracts that allow for salary advancement/deferral, every dollar saved in August is one that can later be spent in 2020 or 2021.
I've been executing a lesser degree of gamesmanship on Ottoneu, where both of my teams appear ready for playoff runs in 2019. Just for fun, here's a look at my second roster — this one in a PPR league that starts 1 QB, 2 RBs, 2 WRs, 1 TE, 1 K and 2 FLEX (W/R/T):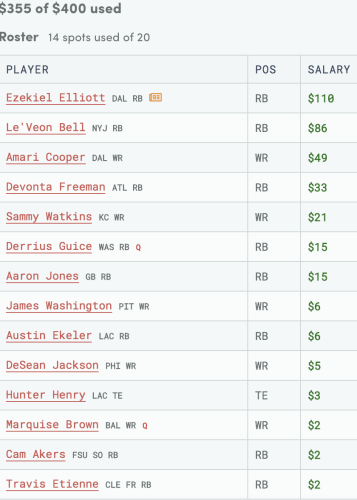 I have until July 31 to make a tough decision on Elliott, who currently carries the top price tag in the league. Other teams already have cut the likes of Saquon Barkley, Antonio Brown, Todd Gurley, Joe Mixon and Melvin Gordon, leaving us with a robust player pool for the August auction. The league just started up last offseason, so the availability of the aforementioned players involves an implication that many owners overpaid for premium players at the initial auction. But it's hard for me to get on board with that notion after watching the 2018 league champion — none other than Ryan Tannehill's ACL — spend 61 percent of its budget on three players (Gordon, McCaffrey, DeAndre Hopkins).
This is where we get into playing against our opponents rather than weighing the numbers in a quasi-vacuum. I may believe Elliott is worth 27.5 percent of my budget and Le'Veon Bell another 21.5 percent, but it isn't smart to keep them if I can win them back at auction for lower prices next month, or find 85 percent of the production at 65 percent of the price.
There's also the matter of some teams using arbitration to bid up the prices on superstars, rather than taking my approach of bidding up players that clearly are underpriced. The former method pressured one owner — the infamous Odd Shaped Balls — into dropping Barkley after offseason arbitration pushed the running back's price from $110 to $127. I took a different strategy toward the same team, adding $2 apiece to Julian Edelman (now $17) and Chris Carson ($22), focusing on players that obviously would be kept given their prices.
My experience on Ottoneu increasingly tilts me toward a stars-and-scrubs approach, but with top college players instead of low-level NFL guys filling out the bottom end of my roster. Most of the NCAA guys I've stashed haven't panned out, but for every handful of Elijah Holyfields and LJ Scotts there's bound to be one McCaffrey who can provide a huge edge for two or three years.