This article is part of our Best Ball Journal series.
DRAFT recently introduced its 2019 version of the NFL Mega Best Ball Tourney, a $125 buy-in version of the $25 tournament that's been up for months now, and the $5 variation that followed it. If I'm being honest, as someone who already has more entries in the $25 dollar tournament than I should, I groaned when the $125 version was announced. I assumed they weren't going to run that version in 2019 – I would have held back my bankroll on the $25 version otherwise – but now that it's here I can't stay away. I think I had four entries in this contest last year, and one advanced to the tournament playoffs, so I think I can be reasonably competitive.
But it's worth acknowledging that the jump in price probably sharpens the competition. I drafted my first Mega Best Ball Tourney lineup last night, and more than usual there were Experienced and Highly Experienced markers littered throughout the draft order. Among them was Peter Jennings, a person well known for high-dollar DFS winnings for years now. If the higher buy-in doesn't draw your increased focus, then the recognizable competition might.
This article will look at the team I drafted Tuesday night. It's a typical team for me in some ways – I drafted Cam Newton and Tevin Coleman yet again and went zero-TE as I often do – but in other ways it was an unusual squad for me. I was assigned the ninth pick.
1.09: Le'Veon Bell, RB, NYJ
This was a pick I didn't plan on. I don't own many shares of Bell generally – apparently I have precisely zero among my many $25 tourney teams – so I guess it's good for me to get some exposure in this venue, knocking down five shares worth of investment in one sitting.
I don't hate Bell this year, but I do hate his coaching staff, and the offensive line is a bit of a concern to me. But he should be very busy from scrimmage, and at the ninth pick I'm willing to cross my fingers and take a chance on his from-scrimmage upside, particularly in these days of RB1 anxiety with the Zeke and Gordon holdouts as well as the ongoing hamstring issues with Damien Williams (who I'm heavily invested in) and Aaron Jones (who I'm not).
2.04: Mike Evans, WR, TB
It took a lot of restraint to pass on My Friend Nick Chubb at this pick, but the top-ranked receivers at this pick were Evans, Antonio Brown, and T.Y. Hilton, so I risked a poor WR1 if I didn't take one here. As someone already substantially invested in Chubb/Hilton and fully terrified of whatever is going on with Brown, I decided to go with Evans.
SPONSORED NOTE
Draft Different with a 2019 Fantasy Draft Board + Player Labels from 360 Fantasy Football Draft Boards! View Top Rated Draft Boards + Draft Kit Add On's. 100% Money Back Guarantee. Promo Code ROTO50 CLICK HERE
3.09: Keenan Allen, WR, LAC
I'd much rather have Allen in PPR and don't know if he'll ever really profile as a standout touchdown source at WR, but I'll bet the over on everything if Gordon's holdout proceeds into the regular season. I'm totally agnostic on that question, but I don't have that many shares of Allen as it is, which I had been anxious about since I found his price reasonable all offseason. If a really good player is going for a reasonable price, I should try to force myself to acquire some shares even if I have my pet favorites I'd otherwise like to target.
4.04: Chris Godwin, WR, TB
It's good to get some stacking going in tournaments like this, and Tampa is one of my favorite targets for doing so. I'm a full-blown Godwin truther, to the point I basically have no idea what his skeptics are even talking about.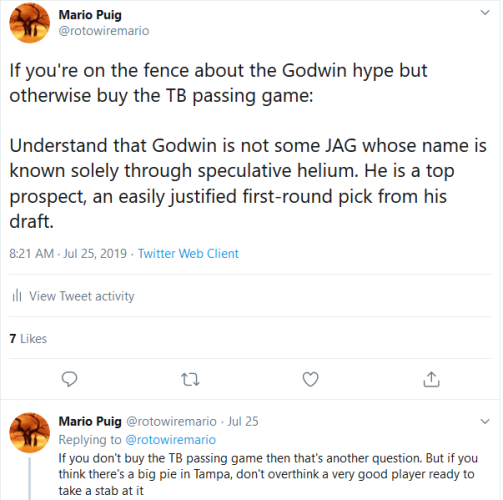 5.09: Tevin Coleman, RB, SF
I can already hear the haters baying from their dingy mancaves, their jowels thundering a horrible flapping sound about Jerick McKinnon's contract or some such thing. Their terror doesn't move me. I've always been a Coleman truther and can't quit now, and while I can't recall the specifics of the other teams in the draft order, I had no faith that he'd make it to my sixth-round pick.
6.04: Calvin Ridley, WR, ATL
If I remember correctly, I made the Coleman pick while otherwise considering up to three receivers who tempted me a great deal. I think I reasoned that RB was thinner than WR, Coleman being my only RB of significant interest, and so I took Coleman and hoped one of those wideouts – Allen Robinson, Tyler Boyd, and Ridley – would fall to my sixth-round pick.
I would have been thrilled with any of the three, but it was Ridley who fell to this pick, perhaps tumbling due to his training camp hamstring injury. I'm happy to take on that risk as my WR4, and it's worth noting that Ridley's August ADP sits at 54.6, so the 64th spot is a decent value.
7.09: Darrell Henderson, RB, LAR
I'm not a Todd Gurley pessimist like many, so I wasn't in on Henderson as a fifth- or sixth-round pick like he's often gone in the past couple months. I am very high on Henderson as a prospect, though, and in the late seventh round I'm content to take a swing at what should be one of the highest-scoring offenses.
8.04: DeSean Jackson, WR, PHI
I've never lost the faith in Jackson, and these incessant training camp reports about how well he works with Carson Wentz perhaps clouded my judgment a bit here. I had imagined a plan to pursue a stack of the Atlanta passing game following the Ridley selection, and this is the spot I would have needed to take Matt Ryan. I did not, so we'll see if that stings me. But I love Jackson as a best ball pick in this range, and I'm reassured by the firepower he offers as my WR5.
9.09: Jaylen Samuels, RB, PIT
Not only did I miss out on the Ryan-Ridley stack, I didn't even get a shot at Austin Hooper with this pick. With those developments denying me the ATL stack and cornering me into a zero-TE approach, I decided to take another stab at running back.
I'm agnostic on Samuel's 2019 prospects and don't own many shares, but I like his fit for my roster and I'm certainly high on Samuels' talent. Just as Henderson doesn't necessarily need a Gurley injury to provide value at his price, Samuels doesn't need to displace Conner to be useful. Samuels could very well be part of Pittsburgh's answer to the losses of Antonio Brown and Jesse James. If someone ruins Donte Moncrief's 2019, I would sooner bet it's Samuels than James Washington.
10.04: Cam Newton, QB, CAR
Just as my hubris may have turned me away from a profitable ATL stack earlier, with this selection I specifically chose Newton over Jameis Winston, knowingly passing on the full Tampa Bay QB-WR-WR stack in the process. I like Winston enough this year, but in best ball with four-point passing touchdowns I just couldn't convince myself that Winston was a better pick than Newton, even if tournament theory demands otherwise. Like the Jackson pick, I might regret this selection despite its otherwise good case.
11.09: Delanie Walker, TE, TEN
This was a reach – Walker's August ADP is 142.7 and I took him at 129 – but my preferred target (Lamar Jackson) was gone and I was saturated at RB/WR already. With Walker I at least can stop wondering when I'll draft my first tight end, and I otherwise hold out some stubborn hope for him this year since early reports indicate that his ankle injury seems a non-issue for now (knock on wood).
12.04: Philip Rivers, QB, LAC
Rivers isn't exciting, but at least I make a slight Chargers stack between him and Allen from earlier. I couldn't take for granted that any solid quarterbacks would fall to my 13th-round pick.
13.09: Marquise Brown, WR, BAL
I desperately wanted Matt Breida or Mohamed Sanu with this pick, but neither made it. Brown was the next player on my board, his ranking solidified with his recent debut in training camp after previously sitting indefinitely following his January foot surgery. I don't have any particular expectation for Brown in 2019 and don't expect him to be predictable from week to week, but I love the talent and his skill set as a high-ADOT big-play threat makes him a practical suit for best ball strategy.
14.04: Duke Johnson, RB, CLE
I don't think Cleveland will trade Johnson, but wow would that make him a steal if they do. If not, I don't mind getting him here for his standalone flex utility, not to mention to insure against my substantial Chubb investments.
15.09: Jack Doyle, TE, IND
I'm an Ebron hater and a Doyle believer, though Andrew Luck's calf injury and the arrival of the immensely talented Parris Campbell have me somewhat concerned for Doyle's target quality and volume. At this late in the draft, though, my concerns are basically immaterial. This was the 177th pick – his ADP in August is 159.6.
16.04: Malcolm Brown, RB, LAR
With Henderson and Brown, a Gurley absence would seemingly assure me a top-15 running back output for any applicable week.
17.09: D.J. Chark, WR, JAC
I didn't have any Chark shares previously, and I'd like him a little less in PPR, but in 0.5PPR or standard scoring I think he might stand out in this range of the draft. He should be a high-ADOT, high-YPR kind of player, and the volatility that might otherwise get held against him doesn't matter in best ball. A burner at 6-foot-3 with 4.34 speed, Chark was an excellent deep ball target at LSU and should get a chance to function similarly with Nick Foles around.
18.04: Rashard Higgins, WR, CLE
I'm a major Odell Beckham advocate and realize that salary considerations preclude the chances of Higgins playing ahead of Jarvis Landry, who I consider inferior, but Higgins looks like the WR3 in Cleveland and for that alone he could offer some useful best ball weeks. I'm also over-invested in Antonio Callaway, and investing in Higgins will hopefully help me atone for that.
In summary
(Bye weeks in parentheses)
QB – Cam Newton (7), Philip Rivers (12)
RB – Le'Veon Bell (4), Tevin Coleman (4), Darrell Henderson (9), Jaylen Samuels (7), Duke Johnson (7), Malcolm Brown (9)
WR – Mike Evans (7), Keenan Allen (12), Chris Godwin (7), Calvin Ridley (9), DeSean Jackson (10), Marquise Brown (8), D.J. Chark (10), Rashard Higgins (7)
TE – Delanie Walker (11), Jack Doyle (6)
I wish I had gotten more passing game stacks. Evans-Godwin and Rivers-Allen is something, but I really wish I had gotten Ryan, Sanu, and Hooper to go with Ridley. I could have had Ryan and Sanu instead of Jackson and Rivers, and if Ryan goes over 5,000 yards this year then I'll probably wish I had gone that route instead. I still like this team, though, and particularly in the event of a Gurley or Conner injury it could go nuts. As long as my decrepit tight ends don't undo me.