This article is part of our NFL Draft series.
We're just a few days out from the draft. Things will almost certainly change between this mock and version 2.0 on Thursday, but as it stands, here's how I see the first round unfolding.
Round 1, Pick 1:

Cincinnati Bengals
The Pick: Joe Burrow, Quarterback, LSU
This one has felt predetermined since Cincinnati locked up the No.1 pick late last season. Benching Andy Dalton for Ryan Finley clued us in that the Bengals were looking to go in a different direction at quarterback, and Finley made it easy for the Cincinnati brass to know that he wasn't the answer, either. Burrow is the obvious pick here.
Round 1, Pick 2:

Washington Redskins
The Pick: Chase Young, EDGE, Ohio State
I know there's some restlessness among the Washington fanbase when it comes to Dwayne Haskins, but pulling the plug on him this early would be a mistake. Especially when pulling the plug and taking another quarterback would mean passing on the best player in the draft in Young.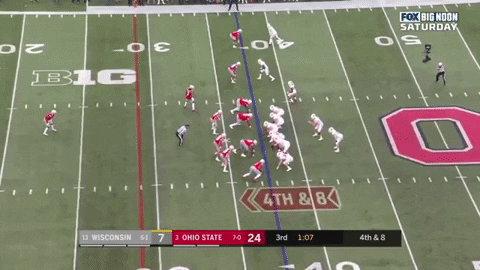 Round 1, Pick 3:

Detroit Lions
The Pick: Jeff Okudah, Ohio State
I'm sure the Lions would love to find a way to trade back a few spots and still end up with Okudah. I'm just not as sure that they have the technology or the steady hands to pull off a procedure like that.
Round 1, Pick 4:

Los Angeles Chargers (via trade)
Chargers Receive: No.4 overall in 2020
Giants Receive: No. 6 overall in 2020, No. 71 overall in 2020 plus a fourth rounder in 2021.
The Pick: Justin Herbert, Quarterback, Oregon
There's a lot of smoke coming out Miami that the Dolphins prefer Justin Herbert to Tua Tagovailoa. If the Chargers value the two similarly, they'll have to jump the Dolphins to get their guy. I still contend Herbert isn't as talented as Tagovailoa, but he also isn't rehabbing from a hip injury that is rarely seen in the sports realm.
Round 1, Pick 5:

Miami Dolphins
The Pick: Tua Tagovailoa, Quarterback, Alabama
The idea that the Dolphins would pass on quarterback all together at five and wait for Jordan Love later in the first round is an interesting one. But I'm not buying it. If Tagovailoa is there at five, it'll be hard to pass up.
Round 1, Pick 6:

New York Giants
The Pick: Tristan Wirfs, Offensive Tackle, Iowa
How the top four tackles get parsed out is one of the most interesting first-round storylines this year. Andrew Thomas, Jedrick Wills, and Mekhi Becton all have cases to be OT1. Wirfs, though, has the tiebreaker. What he lacks in "ideal" size for a left tackle he more than makes up for in freakish athleticism and lower body strength/anchor strength. The Giants would be wise to invest in protecting Daniel Jones and find a lineman who can spring Saquon Barkley. Wirfs can do both.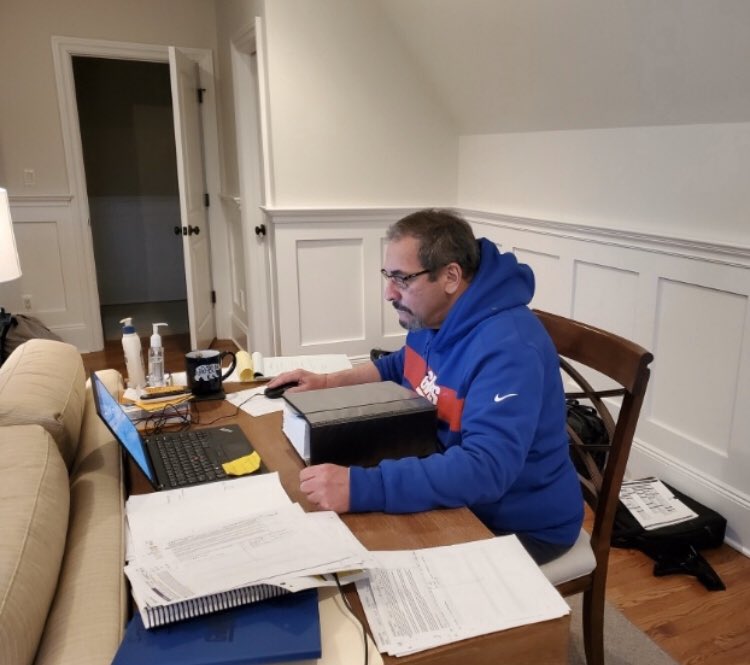 Round 1, Pick 7:

Carolina Panthers
The Pick: Isaiah Simmons, Linebacker, Clemson
Losing a player like Luke Keuchly is never a good thing, but if it's going to happen, having it come in a year when you can get a guy like Isaiah Simmons is a good consolation prize. Simmons can do whatever is asked of him on defense short of playing nose tackle and has a chance to be the player we all thought Shaq Thompson could be.
Round 1, Pick 8:

Arizona Cardinals
The Pick: Andrew Thomas, Offensive Tackle, Georgia
I still can't believe the Cardinals have Deandre Hopkins and this pick. Wow. But seriously, now that the receiver question has been answered, it's time to start fortifying the line for Kyler Murray. Thomas started every game during his three years at Georgia and can play on the left or right side of the line.
Round 1, Pick 9:

Atlanta Falcons (via trade)
Atlanta receives: No.9 overall in 2020
Jacksonville receives: No. 16 overall in 2020, No. 47 overall in 2020
The Pick: CJ Henderson, Cornerback, Florida
I'm buying into the rumors of the Falcons looking to trade up for Henderson, who is the second-best corner in the class. There's a fairly steep dropoff behind Henderson at the position, so that should be enough to compel the Falcons to move up and get their guy. Henderson can fly (4.39 40) and he has the frame (6-1, 204) to stick outside. This would be worth the draft capital given to Jacksonville to start fixing one of the worst cornerback groups in the league.
Round 1, Pick 10:

Cleveland Browns
The Pick: Jedrick Wills, Offensive Tackle, Alabama
Every quarterback struggles against pressure to some degree, but Baker Mayfield is particularly bad when he doesn't have time to throw. Finding an answer at tackle should be the Browns' objective in the first round, and Wills is more than worth it at 10 overall.
Round 1, Pick 11:

New York Jets
The Pick: Jerry Jeudy, Wide Receiver, Alabama
The George Fant signing was bad because 1.) it was a bad signing and 2.) it likely prevents the Jets from getting one of these first-round tackles. The Jets have plenty of needs beyond tackle, though, and one of them is receiver. Jeudy can play in the slot or outside and would round out that position group for Sam Darnold.
Round 1, Pick 12:

Las Vegas Raiders
The Pick: CeeDee Lamb, Wide Receiver, Oklahoma
Lamb is arguably the best receiver in the class and might even go ahead of Jeudy come Thursday. If this were the old Raiders, I'd say Henry Ruggs might be the pick here. But it's not, so Lamb it is.
Round 1, Pick 13:

San Francisco 49ers (from IND)
The Pick: Derrick Brown, Interior Defensive Line, Auburn
That defensive interior looks a lot worse on paper without DeForest Buckner, and it's not like Solomon Thomas has been a success yet either. Brown isn't going to get after the passer as much as you'd like for a Top 15 selection, but he can be a game wrecker on the interior that can free up San Francisco's athletic linebackers and let them make plays.
Round 1, Pick 14:

Tampa Bay Buccaneers
The Pick: Mekhi Becton, Offensive Tackle, Louisville
It's too early for the Bucs to address their biggest weakness, running back, so look for them to go tackle if one of those top four are available at 14. Becton has the highest likelihood of the four to falling this far but I don't mean that as a slight against him so much as I just feel that Wirfs, Thomas, and Wills have less bust potential than him.
Round 1, Pick 15:

Denver Broncos
The Pick: Henry Ruggs, Wide Receiver, Alabama
Denver going receiver in the first round seems like one of the safer bets at this stage, and I don't see any darkhorses to jump Ruggs as the third (at least) receiver off the board. Ruggs would add a tremendous vertical threat opposite rising star Courtland Sutton and give Drew Lock plenty to work with as he continues to develop.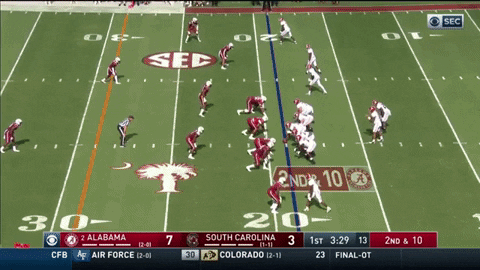 Look at that speed. Denver could have its own Tyreek Hill if it lands Ruggs.
Round 1, Pick 16:

Jacksonville Jaguars
The Pick: A.J. Terrell, Cornerback, Clemson
Rashaan Melvin isn't a serious replacement for Jalen Ramsey. Terrell likely isn't, either, but he projects to be a reliable starter on the outside at least.
Round 1, Pick 17:

Dallas Cowboys
The Pick: K'Lavon Chaisson, EDGE, LSU
The Cowboys have a handful of needs on the defensive side of the ball so they could go in a few directions here. They also have plenty invested in their edge defenders, though they might be sold enough on Chaisson to go with him at 17. Like Mario, I'm a little skeptical of Chaisson and his glaring lack of production, but the general consensus seems to be that he's a Top 20 player.
Round 1, Pick 18:

Miami Dolphins
The Pick: Austin Jackson, Offensive Tackle, USC
Miami adds a toolsy but raw offensive tackle to build around its new franchise quarterback.
Round 1, Pick 19:

Las Vegas Raiders
The Pick: Jeff Gladney, Cornerback, TCU
Gladney doesn't have the usual specs for a first-round corner at 5-foot-10 and 191 pounds with a 4.48 40-yard dash but he's a smart and competitive corner that would fit well with the Raiders, who desperately need to beef up their cornerback group.
Round 1, Pick 20:

Jacksonville Jaguars
The Pick: Yetur Gross-Matos, EDGE, Penn State
With Yannick Ngakoue likely gone by the time this pick rolls around, the Jaguars will suddenly have a need on the edge opposite Josh Allen. Gross-Matos fits that bill and is the second-best edge rusher in this class behind Chase Young.
Round 1, Pick 21:

Philadelphia Eagles
The Pick: Justin Jefferson, Wide Receiver, LSU
Even with Alshon Jeffery and DeSean Jackson back, last year might've caused enough psychological damage to the front office to where the Eagles still view receiver as a pressing enough need to address in the first round. Jefferson is a route-running technician who can give Carson Wentz another reliable target in the intermediate passing game.
Round 1, Pick 22:

Minnesota Vikings
The Pick: Brandon Aiyuk, Wide Receiver, Arizona State
Minnesota's receiver depth is a joke, so there's no way the Vikings leave the first round without taking a wideout. Aiyuk's stock is on the rise and I would have mocked him to the Raiders at 19 if I hadn't already mocked CeeDee Lamb to them at 12. Minnesota needs an outside receiver as bad as any team in the league.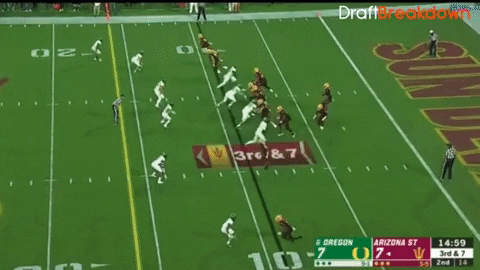 Round 1, Pick 23:

New England Patriots
The Pick: Javon Kinlaw, Defensive Tackle, South Carolina
I could see New England trading down here as their biggest needs (quarterback, tight end) don't really match up with what's available here. If they keep the pick, though, they could go the Best Player Available route and nab Kinlaw. He played tackle in a 4-3 defense at South Carolina so there'd be some scheme adjustment but Kinlaw is a big, violent force in the middle who can eat space and take on double teams.
Round 1, Pick 24:

New Orleans Saints
The Pick: Patrick Queen, Linebacker, LSU
New Orleans doesn't have many glaring weaknesses, though finding an upgrade at inside linebacker is a route it should consider. Aside from being a local product, Queen is the top inside linebacker in the class. He can diagnose plays, shed blocks and stop the run and he's got the athleticism to be an asset in coverage.
Round 1, Pick 25:

Minnesota Vikings
The Pick: Kristian Fulton, Cornerback, LSU
The Vikings lost a ton in the defensive backfield this offseason and corner is now they're biggest need after receiver. If Fulton is still there, he figures to be the pick. He can play outside or in the slot, and that type of versatility will make him a welcome addition to Mike Zimmer's defense.
Round 1, Pick 26:

Miami Dolphins
The Pick: D'Andre Swift, Running Back, Georgia
There seems to be a growing sense that if there's a running back that will go in the first round, it will be Swift. And if the Dolphins have already addressed two key needs with their first two picks, it wouldn't be too surprising to see them go after running back at 26. Even with the Jordan Howard signing, this is a group that needs a lot of work and Swift would give them a three-down skill set with excellent pass-catching ability.
Round 1, Pick 27:

Seattle Seahawks
The Pick: Antoine Winfield Jr., Defensive Back, Minnesota
What he lacks in size he more than makes up for in smarts and play-making ability. Winfield picked off seven passes in 2019 and added 62 total tackles and 3.0 sacks. He can play safety or nickel corner and would be a strong addition to Seattle's secondary.
Round 1, Pick 28:

Baltimore Ravens
The Pick: Kenneth Murray, Linebacker, Oklahoma
The Ravens have a need at guard, too, with Marshal Yanda's retirement. That said, inside linebacker was an issue last year and Murray would be an instant upgrade if he's still available at 28. Murray is still raw but he was a productive player at Oklahoma and he is extremely toolsy.
Round 1, Pick 29:

Tennessee Titans
The Pick: Zack Baun, EDGE, Wisconsin
I had a hard time figuring out where exactly Baun will play at the next level but the talent and the motor are there. Tennessee can get creative with how it wants to deploy him.
Round 1, Pick 30:

Green Bay Packers
The Pick: Jalen Reagor, Wide Receiver, TCU
The Packers need receiver help almost as badly as the Vikings do and luckily for them, they can stay put at 30 and still get a quality player at that position. Reagor isn't a finished product but he has freaky athleticism and can make plays deep down the field. Green Bay needs someone who can do that opposite Davante Adams.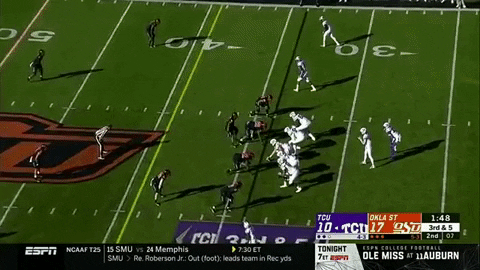 Round 1, Pick 31:

Indianapolis Colts (via trade with 49ers)
Indianapolis Receives: No. 31 Overall in 2020
San Francisco Receives: Nos. 44 and 75 Overall in 2020
The Pick: Jordan Love, Quarterback, Utah State
Indianapolis has Philip Rivers as a short-term answer at quarterback but finding that long-term solution is vital. Love is the kind of quarterback that needs time to develop, and landing in a situation where he can learn from Rivers and coach Frank Reich is ideal.
Round 1, Pick 32:

Kansas City Chiefs
The Pick: Jaylon Johnson, Cornerback, Utah
Running back might be in play here too but you can never have too much corner depth and Johnson projects as a Day 1 contributor. He has natural coverage ability and can play outside or in the slot.