This article is part of our Team Previews series.
Houston Texans

The Texans are in win-now mode and have been since Bill O'Brien took over as GM last summer. Players flew in and out of Houston – including some big names – with the moves designed to maintain a competitive roster while creating cap space to sign Deshaun Watson, who is eligible to become an unrestricted free agent in 2022.
Offseason Moves
Key Acquisitions
He won't make fans forget DeAndre Hopkins, but he's the clear No. 1 back.
May be overkill but provides a third deep target for Deshaun Watson.
Expected to be the primary slot receiver after a one-year stop in Dallas.
The Texans needed bodies on the D-line to shore up their flagging pass rush.
Recorded 17 sacks over 24 games in his final two collegiate seasons.
Key Losses
A shocking move that was not seconded by many shakes up the depth chart.
After seven seasons and 105 games of wear, he's now coming off an ACL tear.
Wanted to stay put, but the Texans' offer wasn't to his liking.
A Look Under the Hood
Head Coach: Bill O'Brien (Year 7)
Offensive Coordinator: Tim Kelly (Year 2) - Erhardt-Perkins scheme
Defensive Coordinator: Anthony Weaver (Year 1) - 3-4 scheme
2020 Vegas Projected Wins: 8 (29th)
2019 Record: 10-6
2019 Points Scored: 378 (14th)
2019 Points Allowed: 385 (19th)
2019 Point Differential: -7 (15th)
2019 Run-Play Rate: 42.1 percent (11th)
2019 Situation-Neutral Pace: 30.49 seconds per play (14th)
2019 Offensive Snaps: 1,017 (17th)
2019 PFF O-Line Ranking: No. 20
Projected 2020 Depth Chart
QB: Deshaun Watson / AJ McCarron
RB: David Johnson / Duke Johnson / Buddy Howell
WR1: Will Fuller / Isaiah Coulter
WR2: Brandin Cooks / Kenny Stills
WR3: Randall Cobb / Keke Coutee / DeAndre Carter
TE: Darren Fells / Jordan Akins / Jordan Thomas / Kahale Warring
O-Line: LT Laremy Tunsil / LG Senio Kelemete / C Nick Martin / RG Zach Fulton / RT Tytus Howard (RotoWire Rank: No. 23)
Kicker: Ka'imi Fairbairn
Top Storylines
Johnson and Johnson
Trading DeAndre Hopkins resulted in a new backfield in Houston. Gone is Carlos Hyde after he racked up 1,070 rushing yards in 2019. That's not bad output for an aging back whose career had been on the decline, with his production perhaps an indication that Houston's offensive weaponry is advantageous for running backs.
Enter David Johnson. He comes with baggage – sagging production since 2016 and being the lesser end of a trade widely assailed as one of the worst deals ever. The critique is mostly that the Texans didn't get enough in return for Hopkins, but pundits also note Johnson's slide. Looking back, Johnson had a passable 2018, but the offense around him wasn't good. He also produced during the first six weeks of 2019 before an injury prompted Arizona to add Kenyan Drake, who took over as the team's lead back to finish the season.
Johnson now will head Houston's backfield while Duke Johnson is the primary backup. If there's a downside, it's that David Johnson, a good receiver from the backfield, may have his targets capped by the presence of Duke Johnson, who was targeted 62 times in a part-time role last year.
In spite of QB Deshaun Watson's ability to run and multiple receiving targets dotting the offense, a healthy David Johnson still figures to outperform Hyde and thus regain fantasy utility.
Revamped Targets
The ripple effect of DeAndre Hopkins' departure and other acquisitions – Brandin Cooks and Randall Cobb – reshaped the WR depth chart. On the surface, Will Fuller moves to the top with Cooks in line to be the No. 2 wideout. The presence of both may cannibalize each other's targets, but Fuller's injury history could change that.
Behind the top two are a pair of returnees in Kenny Stills and Cobb. That's a lot of NFL-caliber receiving talent and begs the question whether another move is coming. Fuller, Cooks and Stills are primarily deep threats and run similar routes. Cobb is expected run out of the slot, which leaves Stills as a $7 million fourth wideout. Moving Stills for a quarterback protector would be optimal.
While Deshaun Watson suffered fewer sacks last season, dropping from a league-high 61 in 2018 to 44, he was often under pressure. To that end, the Texans re-signed Laremy Tunsil, whose presence in 2019 helped improve the line, but more assistance is needed.
Meanwhile, the presence of the aforementioned wideouts could mean fewer targets for the tight ends. Darren Fells, who had a career year at age 33, surprised with seven touchdowns in 2019, but injuries forced Houston to run "12" personnel (1 RB, 2 TE) more than 33 percent of the time, fourth most in the league. With additional options at wideout, personnel packages could change.
Watt's Up With Defense
The Texans blew a 24-0 lead in last season's divisional playoff game against the Chiefs because their 28th-ranked defense couldn't hold up. In several key metrics, the unit experienced a dip relative to 2018. The pass-rush pressure sagged, partially due to J.J. Watt's pectoral injury, which made Whitney Mercilus less effective and put pressure on the next levels. Houston was next to last in tackling and third in yards allowed after the catch.
The defense entered the offseason in need of help everywhere. The team's most newsworthy offseason acquisitions impacted the offense, but Houston also re-signed cornerback Bradley Roby, the unit's steadiest performer in 2019. Meanwhile, the Texans opted for inexpensive free-agent additions to shore up the back end after clearing out debris like Johnathan Joseph and Tashaun Gipson.
That narrowed the team's draft-day needs to the front seven. The Texans didn't have much capital in the draft, after moving high draft picks to land Laremy Tunsil, Kenny Stills and Brandin Cooks. In the second round, with the pick acquired from the Cardinals in the DeAndre Hopkins deal, they drafted defensive tackle Ross Blacklock out of TCU, then added edge rusher/linebacker Jonathan Greenard of Florida in Round 3. Watt returning to form will help, but improvements are needed all over the field to get the unit back to the mid-to-upper tier level.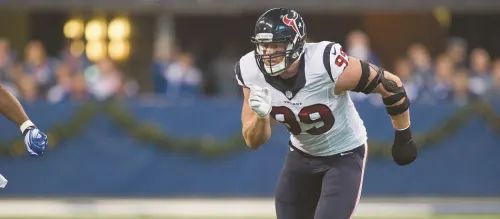 J.J. Watt weathered yet another injury in 2019. Avoiding injury reports will be of utmost importance this season.
Barometer
⬆️ Rising: WR Randall Cobb
Cobb pushes aside Keke Coutee to become the team's starter in the slot. The offense may deploy more "11" personnel (one RB, three WR) than it did in 2019, which could bring Cobb back to the 60-70 reception range.
⬇️ Falling: TE Darren Fells
There's nothing in Fells' history to suggest he'd end up ranking third among tight ends with seven touchdowns in 2019. Houston re-signed him, but a different roster makeup could result in fewer opportunities for tight ends.
😴 Sleeper: RB Duke Johnson
If the pessimists are right about David Johnson, Duke Johnson stands to benefit. Already the team's top option as a receiver out of the backfield, he could be in line for career highs in snaps and carries in 2020.
🌟 Pivotal Player: Deshaun Watson
GM and coach Bill O'Brien made clear who he views as the franchise's most important player when he traded DeAndre Hopkins to Arizona. It's Watson. The quarterback was the Texans' key player last season and this season, and they hope he will be for the next several years. Watson's ability to extend and make plays can mitigate a shaky offensive line.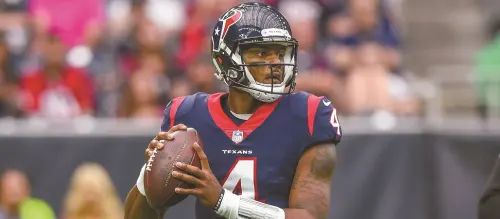 As Deshaun Watson goes, so does the Texans offense.