This article is part of our Team Previews series.
Pittsburgh Steelers

Pittsburgh's 2019 season began with three losses and ended the same way, due in part to inconsistencies on offense experienced after losing Ben Roethlisberger early on. With an 8-8 mark, the Steelers tied their worst record since 2003, but there's optimism heading into this coming campaign due to the resurgence of the team's defense.
Offseason Moves
Key Acquisitions
Had surgery on both ankles, but a solid red-zone option when healthy.
Hard runner with explosive upside, but he'll have plenty of competition for touches.
Has exceptional speed for his size and can also play tight end.
Should contribute as an edge rusher behind Bud Dupree and T.J. Watt.
Joins big brother T.J. and replaces Roosevelt Nix at fullback.
Will compete to replace Javon Hargrave on the inside of the D-line.
Key Losses
Pro Bowl blocker will now create holes for Marlon Mack and Jonathan Taylor.
Perennial backup Daniel McCullers is left to fill the defensive line void.
A Look Under the Hood
Head Coach: Mike Tomlin (Year 14)
Offensive Coordinator: Randy Fichtner (Year 3) - Erhardt-Perkins scheme
Defensive Coordinator: Keith Butler (Year 6) - 3-4 scheme
2020 Vegas Projected Wins: 9 (T-9th)
2019 Record: 8-8
2019 Points Scored: 289 (27th)
2019 Points Allowed: 303 (T-5th)
2019 Point Differential: -14 (T-18th)
2019 Run-Play Rate: 42.2 percent (10th)
2019 Situation-Neutral Pace: 32.33 seconds per play (29th)
2019 Offensive Snaps: 937 (31st)
2019 PFF O-Line Ranking: No. 9
Projected 2020 Depth Chart
QB: Ben Roethlisberger / Mason Rudolph / Devlin Hodges
RB: James Conner / Jaylen Samuels / Benny Snell / Anthony McFarland
FB: Derek Watt
WR1: JuJu Smith-Schuster / Deon Cain
WR2: James Washington / Chase Claypool
WR3: Diontae Johnson / Ryan Switzer
TE: Eric Ebron / Vance McDonald / Zach Gentry
O-Line: LT Alejandro Villanueva / LG Stefen Wisniewski / C Maurkice Pouncey / RG David DeCastro / RT Matt Feiler (RotoWire Rank: No. 10)
Kicker: Chris Boswell
Top Storylines
Big Ben Winding Down?
Since selecting Ben Roethlisberger in the first round of the 2004 NFL Draft, the Steelers haven't aggressively fortified their quarterback position. Until last season, that really wasn't much of an issue.
When he wasn't available in the past, the team turned to veterans like Tommy Maddox, Charlie Batch and Byron Leftwich to fill the void. But none of them was ever thought to be the future of the franchise.
Sure, Pittsburgh has drafted five signal-callers since taking Roethlisberger, but few seriously believed that Omar Jacobs (2006), Dennis Dixon (2008), Landry Jones (2013), Joshua Dobbs (2017) or Mason Rudolph (2018) had what it takes to be the heir apparent to the now 38-year-old.
With the Big Ben era slowly winding to a close, the Steelers don't have a clear-cut succession plan in place. Complicating matters in advance of this past April's draft was that last season's trade with Miami for Minkah Fitzpatrick cost the team its first-rounder this year.
With just one pick in the top 100 overall, the premium QB prospects in a solid class of 2020 were all off the board before the Steelers made their initial selection. For now, Rudolph profiles as the team's top backup, with Devlin Hodges also on hand, so it looks like the answer to the "who's next" in line after Big Ben question likely won't be answered until next offseason.
Conner's Consistency a Concern
With James Conner heading into the final year of his rookie contract, it should come as no surprise that the Steelers opted to draft a running back this past April. While he still clearly tops the team's backfield depth chart, Conner comes with some serious health concerns, having missed 11 games through his first three NFL seasons. The 25-year-old appeared in 10 games in 2019, finishing with just 464 rushing yards, while his yards-per-carry average fell from 4.5 in 2018 to 4.0.
Though Jaylen Samuels can run the Wildcat and catch passes out of the backfield and Benny Snell is capable of pounding inside for the tough yards, neither player was particularly effective when Conner missed time in 2019.
Kerrith Whyte remains on hand, but in an effort to add a potential game-breaker, the team used one of its two fourth-round draft picks to add Anthony McFarland. In the short term, the 5-8, 208-pound rookie out of Maryland will serve as a contingency plan in the event that Conner misses any significant time in 2020.
Beyond this season, however, there may be more touches up for grabs if Conner is allowed to leave in free agency. Given his injury history, the notoriously frugal Steelers seem unlikely to sign Conner to a big-money deal, especially with the way the market has been treating running backs.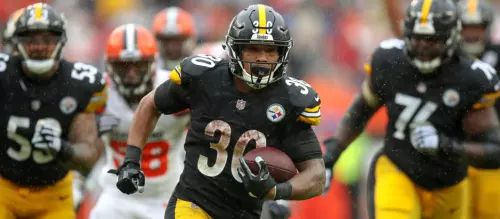 Will 2020 be James Conner's swan song in Pittsburgh?
Eric Ebron Time?
Since tight end Heath Miller retired after the 2015 season, neither Jesse James (now with the Lions) nor Vance McDonald have been able to match his consistency. The Steelers are hoping that free-agent addition Eric Ebron can provide an element that was missing during the team's two-year playoff absence.
Through his six campaigns in the NFL, Ebron has averaged 47 catches and 533 receiving yards. What has Steeler Nation excited about the 27-year-old is his nose for the end zone. Ebron has logged a career 29 touchdowns, which is more than James and McDonald have combined to produce (24) in their time in the league.
That said, a couple of things stand in the way of Ebron's potential success in Pittsburgh. The first is the soundness of his ankles, both of which required offseason procedures and were still on the mend as of this spring. The second is the continued presence of McDonald. In his two years as Pittsburgh's offensive coordinator, Randy Fichtner has seldom used two-TE formations, while giving nearly 60 percent of the snaps to McDonald.
Though Ebron is clearly the better pass-catching threat of the two, McDonald's blocking ability should keep him involved. Ebron thus will need to bond well with Ben Roethlisberger in order to return to the heights (14 total TDs) he achieved working with Indy's Andrew Luck in 2018.
Barometer
⬆️ Rising: QB Ben Roethlisberger
A non-contact elbow injury ended Roethlisberger's 2019 season Week 2, but it appears as though he's fully recovered. If he can stay on the field, he could approach the sort of numbers (5,129 yards and 34 touchdowns) that he put up in 2018.
⬇️ Falling: WR James Washington
Though Washington logged a team-high 735 receiving yards last year, it was Diontae Johnson who led the team in catches, targets and TD catches. Washington remains a deep threat, but the presence of a healthy JuJu Smith-Schuster reduces his opportunities.
😴 Sleeper: RB Anthony McFarland
McFarland joins a backfield led by the brittle James Conner, who's missed nine games over the past two seasons. A strong runner with the speed to gain yards in chunks, McFarland could ascend to the starting role if Conner goes down again.
🌟 Pivotal Player: JuJu Smith-Schuster
After leading the Steelers in catches (111) and receiving yards (1,426) in 2018, Smith-Schuster fell to Earth with 42 catches for 552 yards last year. In fairness, he only played 12 games and lost his starting quarterback six quarters into the season. He should rebound with a healthy Ben Roethlisberger under center.
JuJu Smith-Schuster gets another crack at the No. 1 WR job for the Steelers.