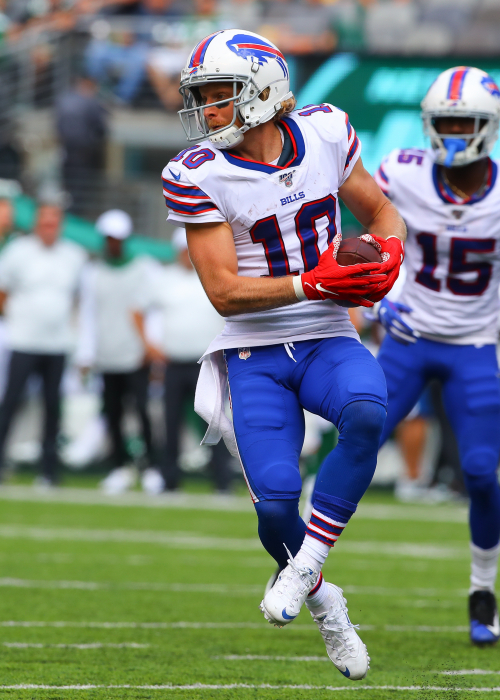 2019 Receiving Projections
2019 Fantasy Outlook
Beasley agreed to terms with the Bills this offseason on a four-year pact worth $29 million. The 30-year-old is coming off of a 2018 season in which he caught 65 passes for 672 yards and three scores in 16 games for the Cowboys. In addition to signing Beasley, John Brown was added to Buffalo pass-catching group that previously had minimal depth behind Zay Jones and Robert Foster. The team now has four wide receivers who can make a legitimate case for regular snaps, though it's safe to assume Beasley was signed with a consistent slot role in mind. Dividing playing time outside between Brown, Jones and Foster figures to be the greater challenge, and there won't be a ton of catches to go around unless Josh Allen improves his accuracy.
Read Past Outlooks
RANKS
#

Overall
Add To Watchlist
$Signed a four-year, $29 million contract with the Bills in March of 2019.

Revenge game against Cowboys
Beasley caught six of seven targets for a season-high 110 yards and a touchdown in Thursday's 26-15 win over the Cowboys.
ANALYSIS
The former Cowboys slot receiver had plenty of experience playing in Dallas on Thanksgiving, and his comfort level with the national stage showed as he wound up leading both teams in receiving yards on the day. Beasley's 110 yards was only two shy of his career best, set in 2015, and he's emerged as one of Josh Allen's most trusted options since Buffalo's Week 6 bye, finding the end zone in five of the last seven games.
Read More News
NFL Stats
Fantasy/Red Zone Stats
See red zone opportunities inside the 20, 10 and 5-yard lines along with the percentage of time they converted the opportunity into a touchdown.
Loading Fantasy/Red Zone Stats...
Advanced NFL Stats
How do Cole Beasley's 2019 advanced stats compare to other wide receivers?
This section compares his advanced stats with players at the same position. The bar represents the player's percentile rank.
The longer the bar, the better it is for the player.
Air Yards Per Game

The number of air yards he is averaging per game. Air yards measure how far the ball was thrown downfield for both complete and incomplete passes. Air yards are recorded as a negative value when the pass is targeted behind the line of scrimmage. All air yards data is from Sports Info Solutions and does not include throwaways as targeted passes.

Air Yards Per Snap

The number of air yards he is averaging per offensive snap.

% Team Air Yards

The percentage of the team's total air yards he accounts for.

% Team Targets

The percentage of the team's total targets he accounts for.

Avg Depth of Target

Also known as aDOT, this stat measures the average distance down field he is being targeted at.

Catch Rate

The number of catches made divided by the number of times he was targeted by the quarterback.

Drop Rate

The number of passes he dropped divided by the number of times he was targeted by the quarterback.

Avg Yds After Catch

The number of yards he gains after the catch on his receptions.
Avg Depth of Target
7.6 Yds
Loading Advanced NFL Stats...
NFL Game Log
Calculate Stats Over Time
Just click on any two dates.
Scoring
Standard
PPR
Half PPR
FanDuel
DraftKings
Yahoo DFS
Snap Distribution / Depth Chart

Bills 2019 WR
Snap Distribution
See more data like this
Loading Weekly Snap Counts...
Receiving Alignment Breakdown
See where Cole Beasley lined up on the field and how he performed at each spot.
Loading Alignment Breakdown...
Loading Alignment Breakdown...
Loading Alignment Breakdown...
Loading Team Alignment Breakdown...
This Week's Opposing Pass Defense
How does the Ravens pass defense compare to other NFL teams this season?
The bars represents the team's percentile rank (based on QB Rating Against). The longer the bar, the better their pass defense is.
The team and position group ratings only include players that are currently on the roster and not on injured reserve. The list of players in the table only includes defenders with at least 3 attempts against them.

vs Ravens
Sunday, Dec 8th at 1:00PM
Overall QB Rating Against
64.7
Loading Opponent Pass Defense Stats...
2019 Cole Beasley Split Stats
Loading NFL Split Stats...
How do Cole Beasley's measurables compare to other wide receivers?
This section compares his draft workout metrics with players at the same position. The bar represents the player's percentile rank. For example, if the bar is halfway across, then the player falls into the 50th percentile for that metric and it would be considered average.
* All metrics are from his Pro Day (not the combine).
Recent RotoWire Articles Featuring Cole Beasley
Past Fantasy Outlooks
2018
2017
2016
2015
2014
2013
2012
Beasley took a major step backwards after his breakout 2016, posting a career-low 5.0 YPT and catching his fewest passes since his 10-game rookie campaign in 2012. The diminutive slot receiver is elusive enough to create separation, but the chemistry he showed with Dak Prescott the season before was largely absent. With Jason Witten now retired, however, Beasley could adopt the role of Prescott's primary security blanket and chain-moving target, giving him some PPR potential despite his disappointing 2017 numbers.
Overshadowed by Dez Bryant, Ezekiel Elliott and Dak Prescott, Beasley quietly had an excellent year -- 8.5 YPT, 75 catches and five TDs on only 98 looks. Beasley's not going to break off many big plays -- only two 40-yard catches in his entire career -- and he's too small (5-8, 180) to be a red-zone threat. However, with 4.49 40 speed, excellent quickness, strong routes and good hands, he's become a reliable possession receiver, and more importantly, one who has a rapport with Prescott. While Beasley had only one game (Week 1) with double-digit targets, he also never had fewer than four targets in any game, and he had at least four catches in all but three games -- in PPR formats, Beasley has a nice floor. The Cowboys didn't add any skill players of note to their offense this offseason, so Beasley should reprise last year's slot receiver role.
The diminutive slot receiver is coming off his best season in the NFL, including an impressive 112-yard, two-TD performance in Week 9 against the Eagles, but much of his production last year came when Dez Bryant and Tony Romo were sidelined and the Cowboys were scrambling to patch together a passing attack. Beasley's elusiveness can make him dangerous, but when everyone is healthy there won't be enough targets available for him to be an asset in many fantasy formats.
It's hard to envision a lot of upside for the 5-8, 180-pound slot man, but he has a few things going for him this year. First, he signed a four-year, $13.6 million deal, meaning the Cowboys are at least moderately committed to making sure he's involved. Second, his primary competition for throws in the short areas of the field, Jason Witten, is now 33 and has seen a drastic reduction in his volume the last two years. Third, Beasley has passable speed (4.49 40), excellent quickness and plus athleticism. Fourth, the departure of DeMarco Murray and his 392 carries could alter the run-pass split for the Cowboys slightly. But that's about the extent of it. Beasley won't be a factor in the red zone, and will be no better than the team's distant third passing-game option behind star Dez Bryant and Witten (and could be the fourth option depending on how often the team targets deep threat Terrance Williams).
As a poor man's Wes Welker, Beasley was occasionally effective out of the slot in 2013, but the drafting of Devin Street was a clear sign that the Cowboys expect more production from the no. 3 spot on their depth chart. Unless he winds up in New England someday, Beasley's ceiling is very limited.
The Cowboys selection of Terrance Williams with the 74th overal pick in the 2013 NFL Draft spells bad news for Beasley's chances of winning the No. 3 WR spot, as he was already expected to battle Dwayne Harris for the job.
Prototypical small, quick slot receiver will compete for the Cowboys' third WR spot.
More Fantasy News