This article is part of our Fight Stat Wrap series.
UFC 239 was probably the UFC's biggest show of the year, and it certainly delivered. The main event was light on excitement but heavy on drama. The rest of the card featured some violent finishes and vintage performances. The following is a by-the-numbers recap that highlights the stats and milestones that stood out on the main card, with stats courtesy of UFCStats.com.
Jon Jones holds onto title with a split decision over Thiago Santos
Jones escaped with the split-decision victory here, but the fight was much closer than many expected. If the champion had lost his title, he likely would have nobody to blame other than himself. He attempted only 90 significant strikes in the 25 minute fight, which was much lower output than Santos. The challenger attempted 166 significant strikes. In the end, Jones outlanded Santos 59 to 43 overall on significant strikes, and he had the advantage in rounds two through five.
Jones' 59 significant strikes equates to 2.36 landed per minute. That effective output was the second-lowest rate of his career. The only time he had a lower landing rate came against Ryan Bader, a fight he won via second-round submission.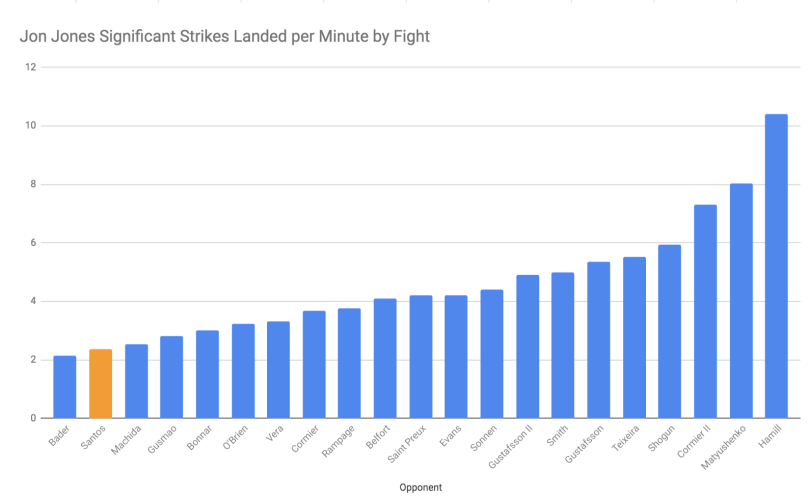 Going into the fight, it appeared as if "Bones" had a big advantage in the grappling department, but he only tried one takedown. He chose to engage in a standup battle against a skilled striker. He took home the decision, but the tactics were certainly questionable.
Even though the fight went the full 25 minutes, Jones lack of activity kept his DraftKings score low. He earned only 59.5 points, which was the third-lowest score among winning fighters on the night.

Amanda Nunes picks up another historic knockout over Holly Holm
Nunes is on perhaps the best run a female fighter has ever had in the sport. In her last two fights, she has outlanded Cris Cyborg and Holm 30 to 14 and landed three knockdowns. Holm looked like she was having some success early with her movement. However, it was only a matter of time until Nunes landed her head kick and finished the fight. She now has eight KO/TKO victories in her UFC/Strikeforce career.
This was one of four first-round finishes on the night, and Nunes did enough to bring home the highest score on DraftKings. Her 108.5 points bested both Edmen Shahbazyan and Michael Chiesa who were tied at second with 107.5 points.

Jorge Masvidal puts Ben Askren on the highlight reel
This is a highlight you will see for a long time. Masvidal charged right at Askren to start the fight. Askren changed levels for a takedown and caught a flying knee to the head. The fight was over immediately, but Masvidal landed two more significant strikes for good measure. Interestingly enough, Askren has zero landed significant strikes in his two UFC fights.
Obviously Masvidal did not have very much time to put up points other than the knockdown and the first-round finish bonus. He finished with 101.5 points on DraftKings, which was the fourth-highest score on the night.

Jan Blachowicz shows he is the better striker against Luke Rockhold
In his first fight up at light heavyweight in the UFC, Rockhold clearly wanted to get to the clinch and work for takedowns. However, he was not effective in the position. He failed on all five of his takedown attempts and landed only five significant strikes in the clinch.
At distance, this fight belonged to Blachowicz. He outlanded Rockhold 23 to nine at distance and scored the blow that sent him out of the fight. Blachowicz has clear liabilities as a fighter, but the light heavyweight division in shallow. He could easily go on a run.
Blachowicz just missed out on a 100-point night on DraftKings. For the second-round knockout, he finished with 95 points, which had to feel like a bonus for any player who picked him due to his underdog status.

Michael Chiesa beats Diego Sanchez at his own game
The UFC is clearly matching Sanchez up with grapplers at this point in his career. The idea is that he can remain competitive without taking too much punishment. In this fight, he was not able to keep up with Chiesa in the grappling game. The younger fighter scored five takedowns, eight passes and basically controlled the entire fight on the floor. He landed 38 significant strikes on the ground compared to only four for Diego. Chiesa was the favorite going into this fight, but he was more dominant than many thought he would be.
Chiesa finished tied for second on the night on DraftKings with 107.5 points. If he had been able to land with power on the floor his score would have been much higher. In the fight, he landed 132 strikes, but only 47 of them were considered significant by the official scorer.